7/22/12 - 7/23/12
93 °F

St George slaying the Dragon - Liberty Square
Our train arrived at the main Tibilisi train station at 6:30am. It had been a rough night. Mike had purchased first class sleeper tickets for us for the trip back from Ushguli to Tibilisi. We figured the 15 Lari (approximately $10) tickets beat spending $75-$100 for a hotel for the night. Maybe, maybe not. The train compartment was stuffy and you couldn't open the window. The "air conditioning" didn't kick in unless the train was running at full speed - which it did for a maximum of ten minutes before it pulled into another station. Neither of us got a good night's sleep.
We stopped by the hotel Mike had booked to see if they would let us check in early. We really didn't want to carry our heavy packs around all day until we could check in. The woman at the desk let us drop our bags until noon when we could get our room. We decided to walk around Tibiilisi to see some of the local sites I had not yet seen. It was Sunday, so some places (churches) were having services and some opened later than usual. Out first stop was the Metekhi church. Services were in session and I had not brought my scarf. The chapel was standing room only, so we took a few photos of the outside and moved on.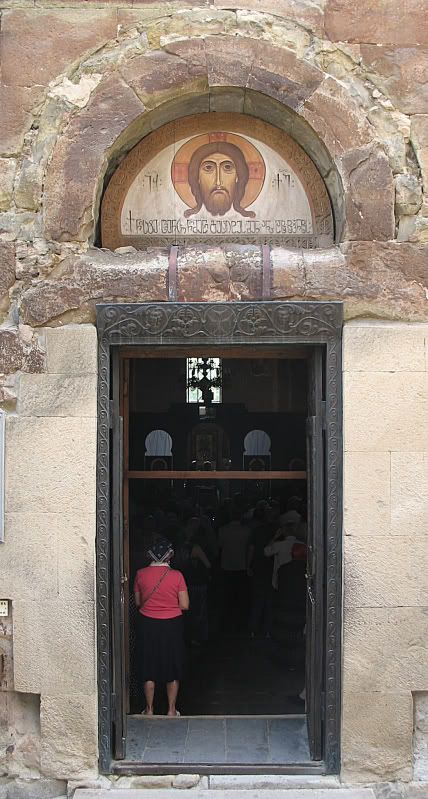 Anchiskhati Basilica - The oldest surviving church in Tibilisi
Next, we'd tried to catch the cable car up to the Narikala fortress looming over Old Town. It didn't open until noon and it was just 10am. Time to rethink our plans. We wandered around the riverside park a little and then wove our way back through Old Town towards Liberty Square. On the way, we found a couple other churches Mike had not yet found, one of which was the oldest church in Tibilisi, a quirky clock tower and a part of the old city wall. The main attraction we were headed for was the Museum of Georgia. I was expecting a lot of ancient history information regarding the different civilizations that had inhabited the area. What we found was a collection of jewelry and goldsmithing from ancient times that held some very beautiful items. One of the other exhibits was on the Soviet occupation of Georgia. I was shocked and horrified to see how the Soviets had targeted not just the elite families, but the "Inteligencia" - the poets, musicians, scientists, clergy - anyone who held the cultural heart of Georgia. It was definitely a sobering experience.
After the museum, it was finally time to check into our hotel. We unpacked, dropped off some laundry and headed back out to see more of the city. I felt bad that Mike was having to see a lot of this again, but we did manage to find a few places that he missed in his previous visit to Tibilisi. We decided after dinner to make it an early night since we were both tired and had scheduled another big sightseeing day for our last day in Georgia.
When we were planning the trip, there was one place near Tibilisi that I asked Mike to hold off seeing until I got here - the nearby town of Mtskheta. Here, we're several old churches and a monastery that is the most sacred place in Georgia. How could I not want to see that? Our 1 lari (60 cent) marshrutka ride got us there in about 20 minutes.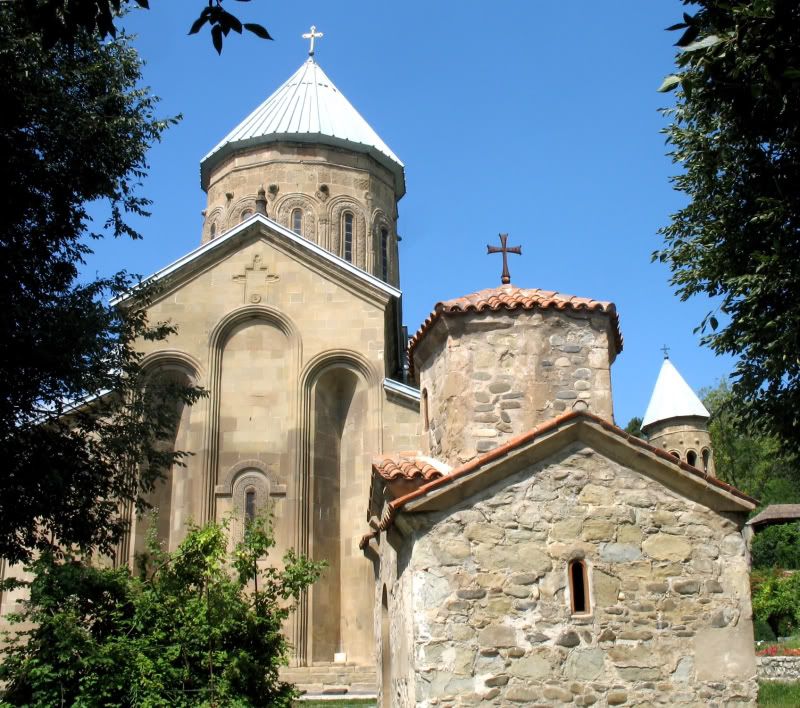 Samtavro Church
We started off at Samtavro Church. As we walked in, we noticed the room full of nuns and novitiates cleaning every inch of the church. Including scrubbing the marble floors with steel wool! What we didn't see was a "no photography" sign. In one corner, are two beautifully carved stone sarcophagi for King Mirian and Queen Nana who are buried in the church. As I was taking a photo, one of the older nuns came over and asked me to not take photos. She asked what language I spoke and walked off. Mike and I continued to take in the beauty of the frescoes on the walls and ceilings. As we were starting to leave, the older nun brought over one of the novitiates who spoke English (sort of) to give us a brief lesson of the church. She was genuinely thankful that we were interested in their church and history. I mentioned to Mike that if the woman from the cathedral in Telavi had been kinder, as this nun was, I would have come away with a more favorable impression of the church. I will always remember this nun and her gentle understanding.
From here, we walked to the walled Svetiskhoveli Cathedral. Not knowing which way to get to the front entrance, we ended up walking all the way around the wall. We entered the the cathedral through an impressive gate and through a courtyard. From there, we walked into the cathedral. It was beautiful! And, there was no sign saying we couldn't take pictures. Mike & I started snapping away. This was one of the more crowded sites we had been to. And I can see why. The frescoes were much more colorful than many we had previously seen. We spent quite a decent amount of time wandering around the church and the grounds.

Jvari Church
There were three more sites in the area that Mike and I wanted to see, but they were not within walking distance. As we walked down the street, a taxi driver asked if we needed a car. We agreed on a price an hopped in. First up was Bebris Tsikhe, a ruined feudal period castle. There's not much left but a few walls, but it was cool to climb through anyways. Next, was the main reason for coming to Mtskheta - Jvari church. The church was built around 600 AD on the site where King Mirian was converted to Christianity and later erected a cross. Jvari sits on a hilltop overlooking the city. I have to say, I was extremely underwhelmed. All of the build up to this and there really wasn't much to see. It just didn't live up to the hype.
The last stop was to be a site that wasn't in my guidebook but was in Mike's more recent one. Armaztsikhe Bagineti is a pre-Christian site on a hill across from Jvari. The guidebook didn't say much about it but we decided to check it out anyways. Here, we were both very pleasantly surprised. It appears to be a site that is currently under excavation but is open to the public. There were Roman style baths and an area that could have been the residence of the king of the time. It doesn't appear there have been many visitors to the site. In fact, there is no real parking for it. The taxi driver had to just park along the side of the road as he waited for us.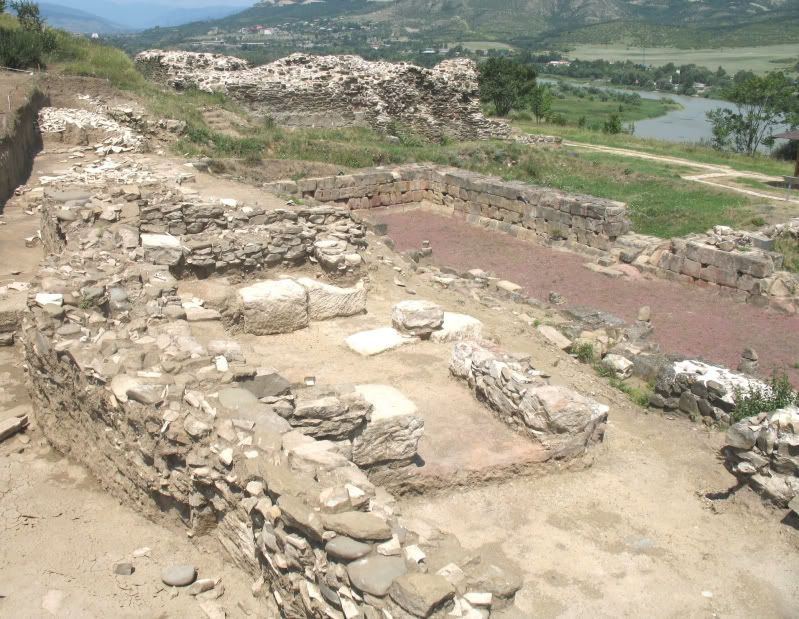 Armaztsikhe Bagineti
It was time to head back to Tibilisi. We were dropped off at the stop for the marshrutka. I was thinking that this had been an interesting day. The places I thought would hold the most interest didn't and the sites I thought would just be ok were the ones that were most memorable.
The rest of the afternoon was spent catching up on e-mail and resting up. For dinner, we found an Irish pub that the guidebook said had "the best damn burgers" in Tibilisi. Mike was tired of Georgian food by now so we opted for more American fare. It was good. Maybe not the best I'd ever had, but it hit the spot.
We then walked down to the river park to get some night pictures of the Freedom bridge and the castle walls high above. In the park, there is a fountain that is choreographed to music. I took way too many pictures of it. Even thoughit was still early in the evening, we had to call it a night. Our early flight meant a 4am wake up.

Fountain in the Park