A primer in Icelandic history
3/24/13 - 3/24/13
32 °F
Day two started early. Mike and I had scheduled a tour of the Golden Circle through the tour company Gateway to Iceland. We had asked the nice lady at the Tourist Info desk if she recommended one tour company over another. She suggested GTI since they use minivans instead of the big tour buses. I'd much rather have to deal with a smaller group. Plus, it was cheaper than all of the others we looked at. Win-win!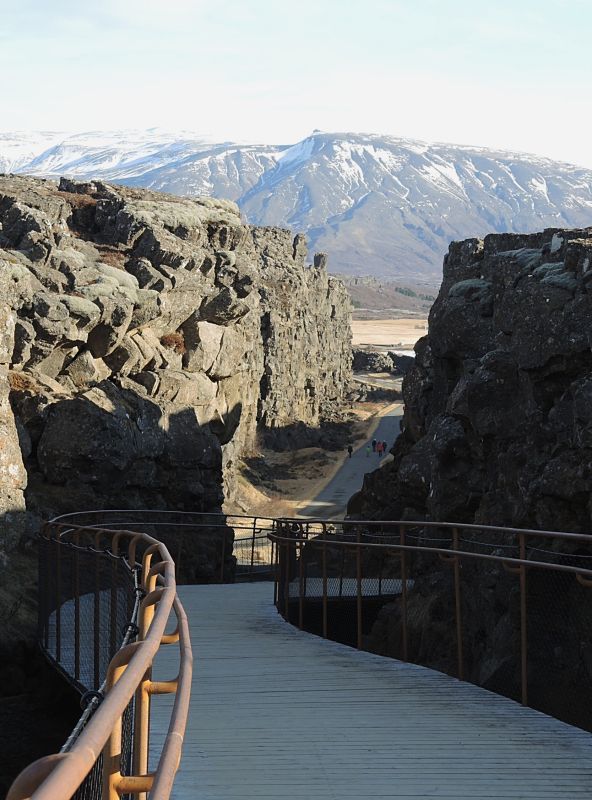 North America on the left and Europe on the right
We were picked up for our tour with 8 other people. A nice, small group. Our tour guide, Thorsten was quite talkative giving info on Icelandic history and geology. The first stop was Thingvellir - the original spot of Icelandic Parliament in 930 making Iceland the oldest democracy. Another interesting thing about this area is that it sits right next to where the North American and European plates meet. So technically, you can cross back and forth from North America to Europe just by walking down the crevasse. And here I thought I was already in Europe!
The Althing is a big open (and WINDY) plain alongside the nation's largest freshwater lake. The scenery was spectacular! Mountains in the background with a glassy lake stretching out in front of you. They say the reason they picked this spot was the natural acoustics for the people speaking. It was definitely a place of power.

Icelandic church and buildings next to Thingvellir
From here we went to Gullfoss - an impressive two level waterfall. He dropped us off in front of the obligatory souvenir shop and cafe. Both Mike and I were amazed at how many people went in to shop or eat instead of checking out the natural beauty of the huge waterfall just outside! Now, it's been a very long time since I've seen Niagra falls so I can't really compare the two. I know Niagra is much larger, but Gullfoss was breathtaking on it's own. (Or was that just the gale force winds trying to knock me down?) We wandered around snapping photos from every angle hoping each one would be better than the last. It was. The skies were amazingly blue and the mist billowing up from the falls made the scenery that much more ethereal.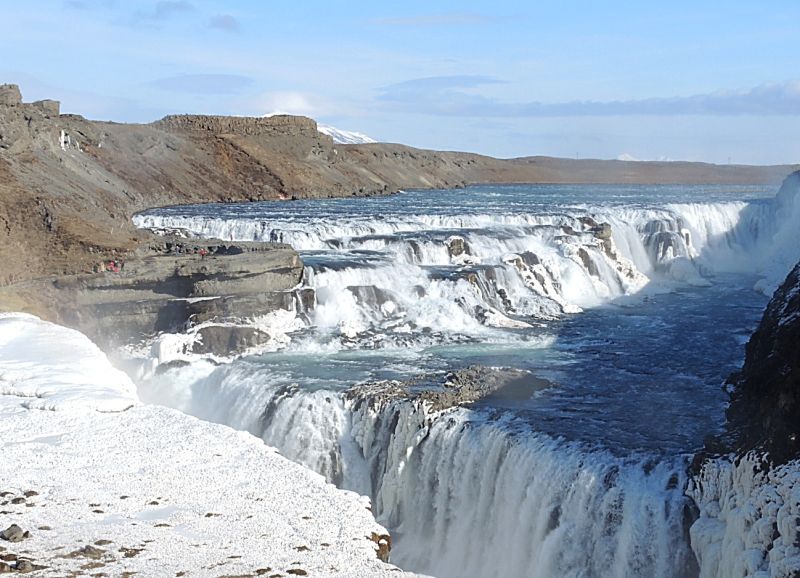 Gullfoss
Too soon we had to get back in the van and head to our next stop...Geyser - the original geyser. Unfortunately, due to recent seismic activity, Geyser is unpredictable and does not erupt very often. However, there is another geyser, Strokkur, which is right next to Geyser and erupts every 5 to 6 minutes. What a show! Just as we were walking up, Strokkur threw a huge plume into the sky. We stood behind the line as instructed by our driver to take our photos with 100 or so other fine folks. (As we were driving up Thorsten was sure to give a horror story of a woman who crossed the line and stepped through the crust burning her foot nearly off. Must keep the tourists in line!). Right on schedule, Strokkur blew over and over again. The first time, I was so startled I jumped and didn't get a single photo. Lucky for me it would blow again just a few minutes later. We were given nearly an hour and half to check out the geysers and surrounding hot springs. Oh, and to also visit one of the lovely restaurants and gift shop. All of them well beyond my price point. As Mike and I were heading over to warm up a bit we decided to try photos of Strokkur again. What we didn't realize is that we were down wind and Mike got soaked! I'm not sure how I managed to stay dry standing right next to him. However, I'm NOT complaining. I guess it was a good thing that we had all that time to allow Mike the time to dry off.
From here, it was time to head back to Reykjavik. As we went, Thorsten would throw in little "surprise" stops. One of them was a horse farm where he keeps his 4 horses. We all stepped up to the fence and the horses came up to be petted. I kept apologizing that I didn't have an apple or sugar cubes.
Our next "surprise" stop was a much smaller waterfall. It was nice, but it paled in comparison to Gullfoss. Then we stopped at Skalholt, the main bishopric (religious center) in southern Iceland. From the outside, it's a very plain church. Inside is rather plain as well but it has some rather beautiful stained glass. As Thorsten gave his rather lengthy description of the history of the Icelandic church I let my eyes wander around and take in the beauty. The sun was in just the right spot for the warm afternoon light to bathe the walls in a kaleidoscope of color. What a wonderful way to end the tour.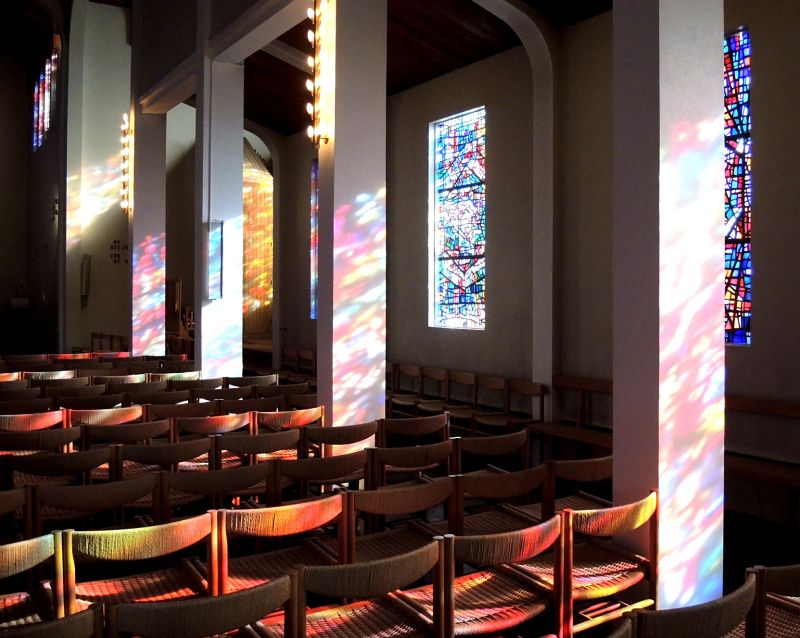 Dancing colors
On the ride back, Thorsten took questions from the group about daily Icelandic life. He was quick to give his view but was considerate enough to remind everyone that there are always two sides to any story.
All in all, a great day. We got back to our hotel with time to rest up and grab a bite to eat. Tonight is our Northern Lights tour. Here's hoping the weather gods are kind. We'll let you know next time.
Posted by Jengt 01:21 Archived in Iceland Tagged waterfall geyser Comments (0)