Leon's lasting impression.
4/3/15 - 4/3/15
99 °F
Our last day in Nicaragua was going to be a long day. Our flight wasn't scheduled to leave until 1am Saturday so we had to come up with something to do all day and still check out of our hotel by 1pm. While researching what to do on our trip, I had read up on the Leon neighborhood of Sutiaba where they create colorful sawdust 'carpets' on the streets for Good Friday. This was the one non-extreme sport thing I really wanted to see while we were here. We decided to sleep in a little and then check out Sutiaba to see how the process begins. We grabbed a taxi for less than $2 to take us there since we weren't exactly sure where it was. Plus, it was just too hot to walk very far.
The carpets start out as a base of primarily dark sawdust which is put in a frame and then wet and tamped down to keep it together. Once the base is set, they sketch out an outline and then fill in with dyed sawdust to create the image. We saw groups of friends and even several generations of families all working together to create their carpets. After 45 minutes or so, Mike & I decided to head back to the hotel and come back later in the day when the carpets would be complete.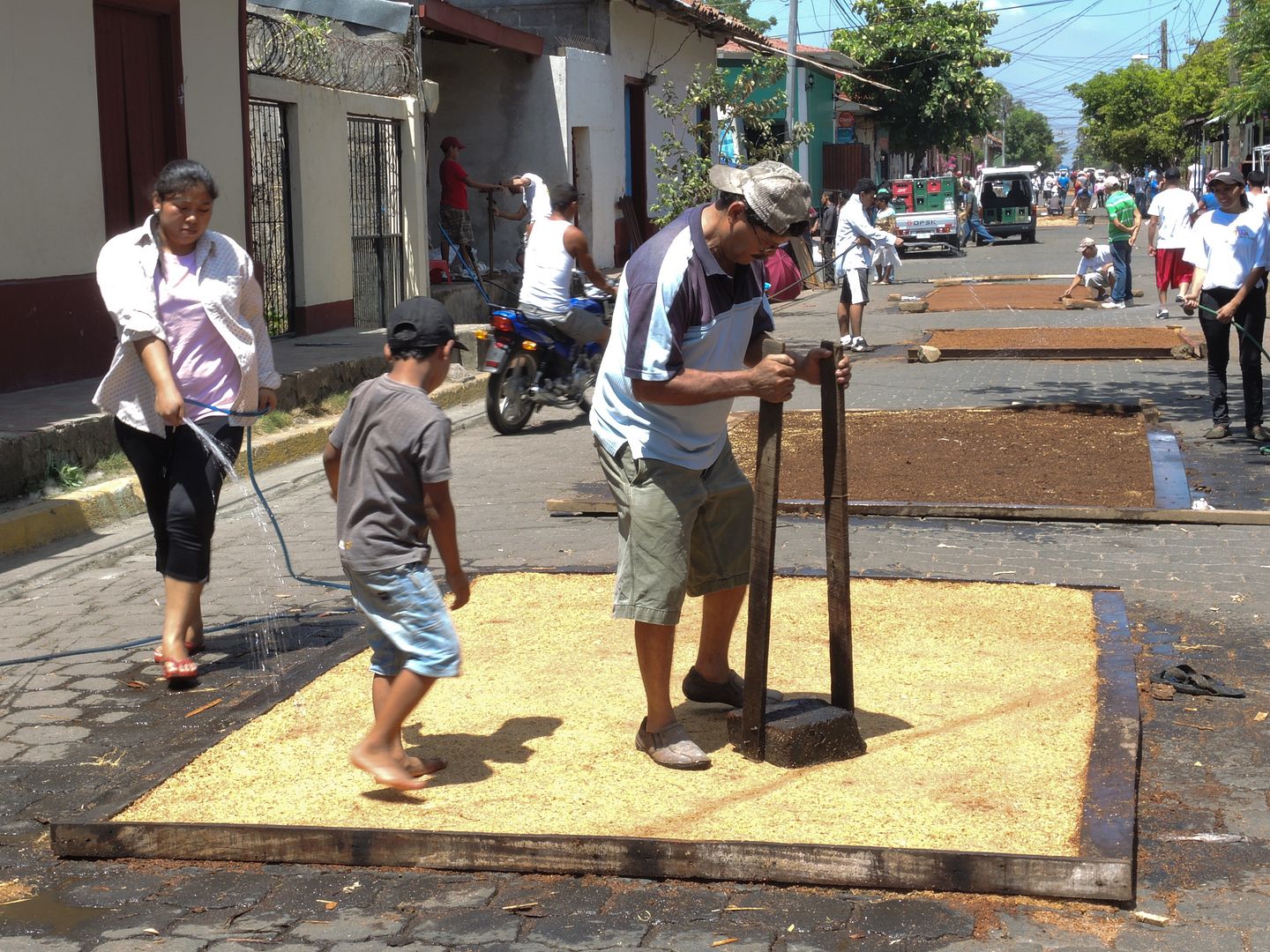 A family getting their base ready.

Sketching the design.
With the help of our hotel clerk we found another nearby hotel let us use their pool for a nominal fee. What a great way to cool off on the hottest day we were here. (The forecast was calling for a high of 100!) After a soothing dip in the pool, a scrumptious lunch and some relaxing by the pool we packed up and headed back to Sutiaba to check out the progress.

The same carpet as above completed.
Another cheap taxi ride there. This time, however, there was a considerable crowd when we got to the drop-off point. The city had turned out for a celebration. The transformation from what we had seen earlier was amazing! These families had taken a plan, brown pile of sawdust and created amazing works of art. Some were very simple and others were extremely detailed and shaded.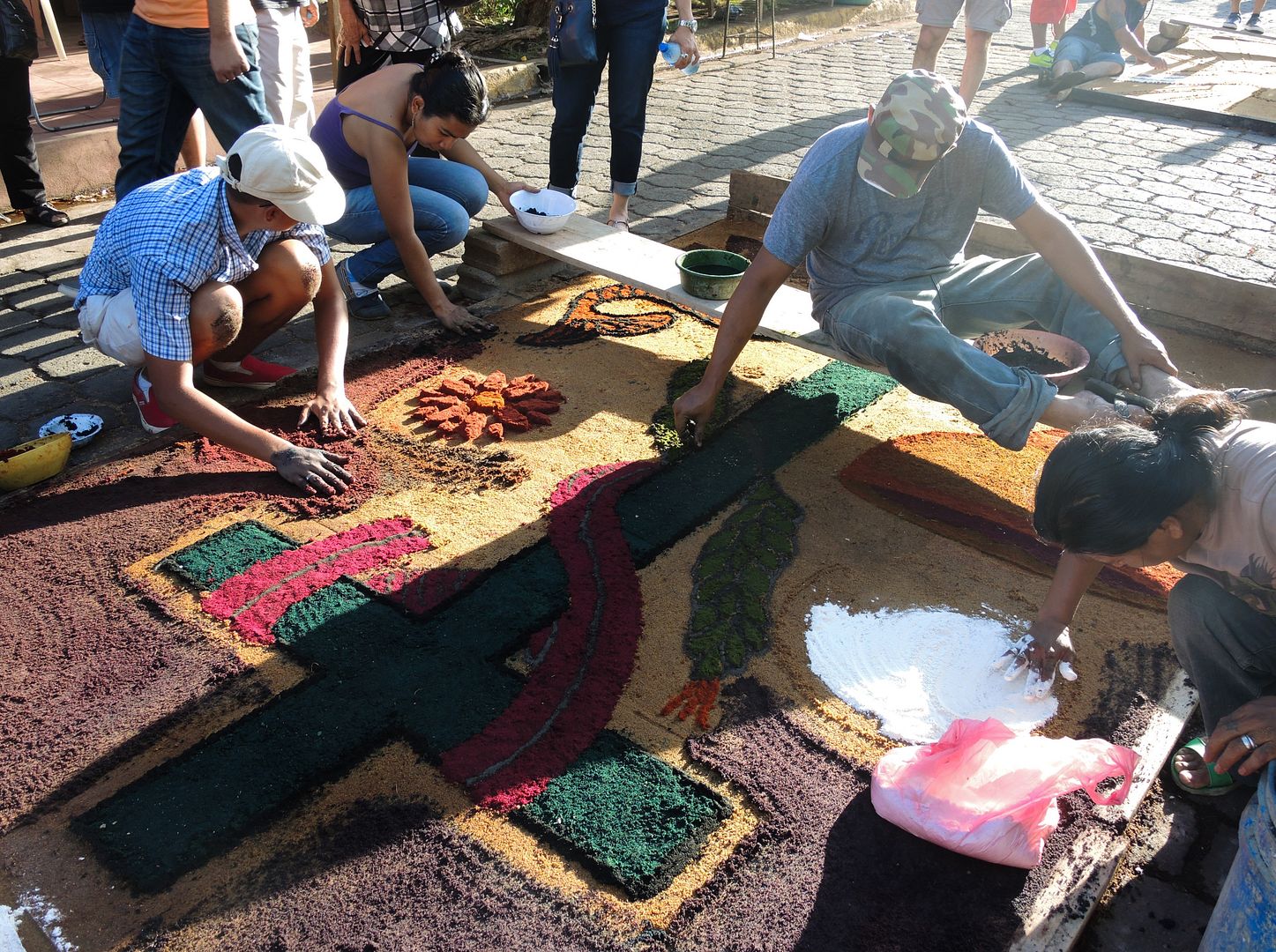 A family working together on their carpet.
Most were still in the finishing stages of completion. The artists were using simple tools - primarily their own hands. You could tell who the primary 'artist' was as they would tell his or her helpers what color to put in a certain spot as they worked in another corner of the carpet. As we walked along I was more and more amazed at the details and subtle shading they were able to create with sawdust!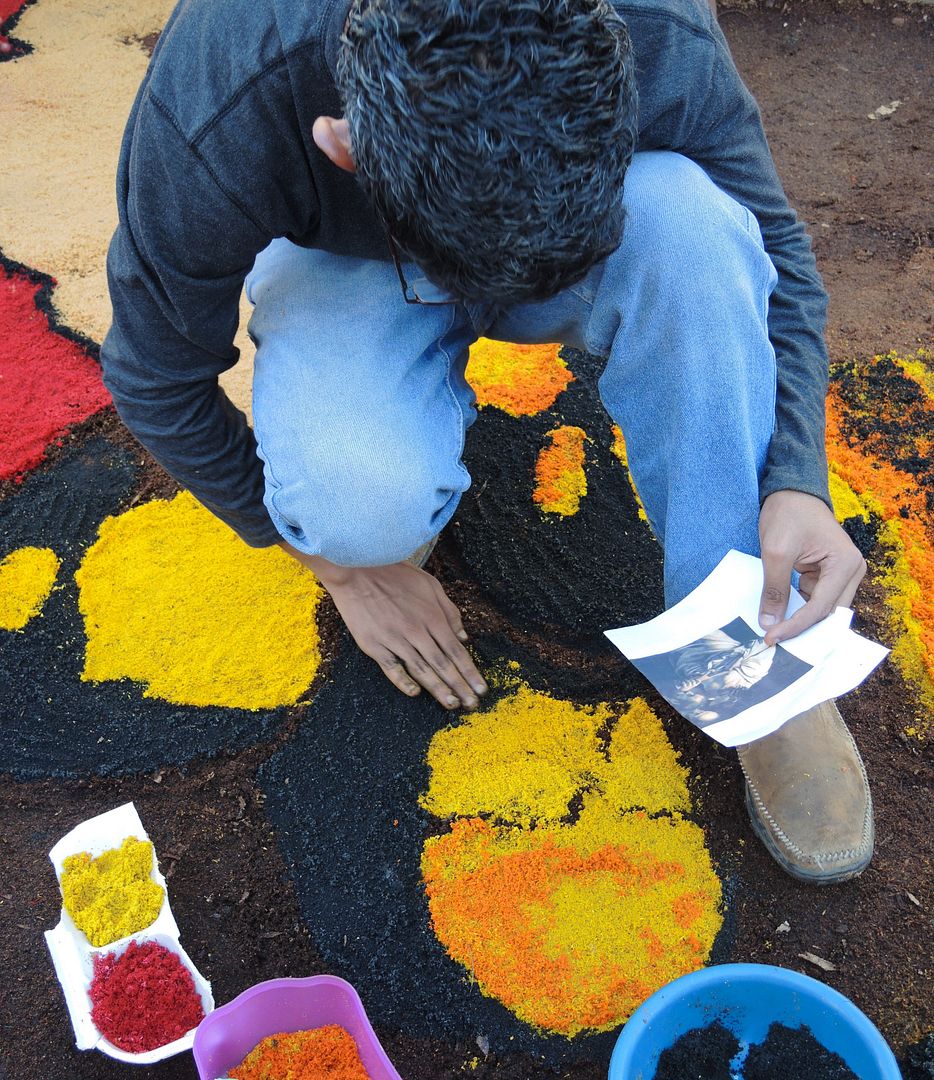 Working on the details.

Fine shading with a 3D touch.

A sea of color.
At a certain point, we looked at our watches and realized we'd been walking around for nearly 2 hours. It felt like we had just gotten there! The crowds were continuing to grow and it was getting hard to walk. I felt wonderful and sad at the same time. So happy to have seen the passion each of these folks had put into their carpets and sad that the beauty was fleeting. Mike reminded me that even though the carpets themselves wouldn't last, our memories and photos definitely will.

Artistry.
We had seen what we wanted so we decided to head back to the hotel to grab our bags and clean up for the long trip home. Just as we got to the main square we came across another procession leaving the cathedral.

The coffin of Christ.
Our trip to Nicaragua started off slow. We both felt a little 'meh' at the start but things picked up as the week progressed. Leon's sites and people had made a lasting impression.
Posted by Jengt 16:33 Archived in Nicaragua Comments (0)