7/17/12
90 °F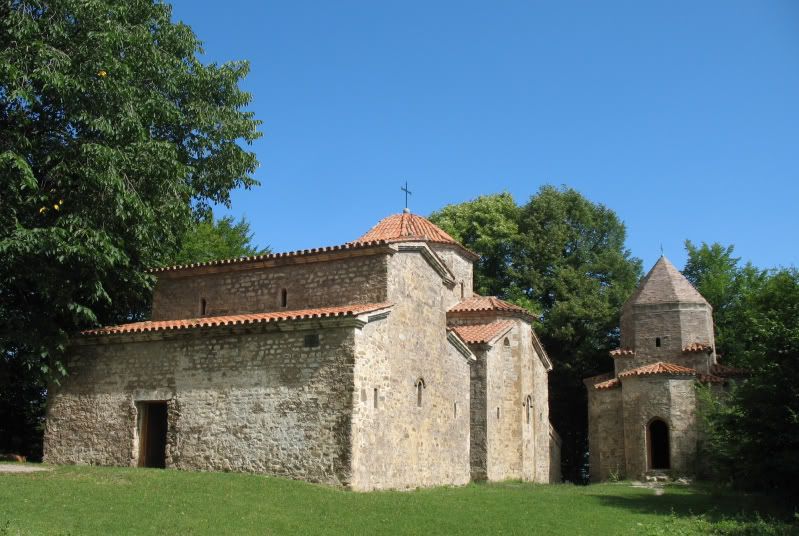 Old (Akhali) Shuamta
My second day in Telavi was spent mainly away from Telavi. Even after the problems at the hotel we thought we had booked, the desk manager was very nice to us. We had mentioned to her, during our "negotiations", that we had some sightseeing to do in the area. She did help us book the taxi for a tour of six historic sites in the area.
The first on the tour is actually 2 different sites. The first of the two we visited is "Old" Shuamta which is actually three different churches in a close cluster. The oldest is 6th century and the newest is 7th century. They are all small, pale stone churches, each with it's own style. The churches are hidden on a wooded hill, well off from the main road.
The next stop was "New" Shumata. Akhali (new) Shumata is a convent built in the 16th century. During Soviet times, it was used as a orphanage but is now back to an orphanage. This was my first time (but not the last) having to conform to traditional dress while visiting churches today. I knew I would probably have to cover my head, so I brought a scarf with me. (I'm not that interested in borrowing a scarf that has been used by MANY women before me.). Even though I wore long pants, I still had to wear a skirt. At the entrance of most of the churches was a rack with wrap-around skirts so women not dressed "properly" could enter. I had to finish dressing while Mike just walked in. Figures. This was also one of those places that doesnt allow photography inside. It pained me to comply, but the stern nun watching our every move convinced me it was a good idea. Inside the church, there are beautiful frescoes on the walls and ceiling. I just stood there with my mouth agape in wonder.

Ikalto Monastery
From here, we hopped back in the taxi and headed to our next destination, the Ikalto monastery. Ikalto is a 6th or 7th century church. Next to the church is the ruins of an academy built in the 12th century. The entire complex was destroyed in the 16th century but the church has been rebuilt. We were able to photograph at will here. And, luckily, no skirt. I noticed other women without headscarves, but I thought the least I could do was be polite and wear that, at least. We wandered the grounds for a while until we'd both seen our fill.
To this point, we'd pretty much had each of the places to ourselves. We were playing leap frog with a group of 3 other people and their tour guide but we kept pretty well separated from each other.
Our 4th stop of the day was Alaverdi cathedral. Alaverdi is a magnificent church inside of a walled fortress. Once again, I had to don the skirt before entering. The big difference between Alaverdi and Shuamta is that they don't even allow photos on the grounds. Both Mike and I pulled our cameras out at the front gate to get an overview photo. We weren't "quite" inside...yet. It seems the most beautiful places are the ones you aren't allow to photograph. Turns out, that was the least of my worries here. While in the cathedral, I was apparently walking too close to a nave when a woman started berating me in Georgian. Pointing at me and shaking her head grabbing candles that someone had put on a railing in front of an icon. I backed off apologetically, not knowing what I had done wrong. She then walked up to the monk who was keeping watch and she laid into him too. I guess she didn't think he was doing his job well enough. I stared at more fantastic frescoes for a few minutes and then decided to see more of what I could outside. A convent had been added in the 17th century and there were several other buildings, but we weren't allowed anywhere near them. Mike and I decided we'd seen all we could and started out. At the gate, we were getting ready to take a few parting photos when I realized that the woman from inside was sitting in the souvenir shop - looking right at us. She suddenly got up and walked away after giving us the evil eye.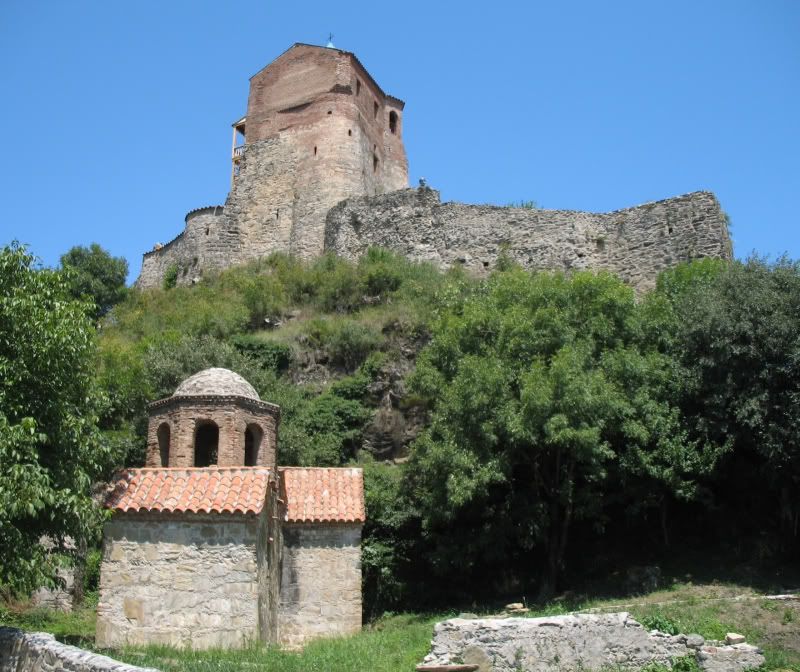 Gremi
The next stop was Gremi. This small walled castle and church sit atop a hill overlooking the valley below. The castle has a tower you can climb to see some beautiful views of the countryside. This citadel was the Capitol of Georgia for over 200 years from the mid 15th to 17th centuries. They are working on reconstructing some of the outlying buildings. This will be a great spot to visit in a few years!
Our driver saved the best for last. Nekresi monastery is set high on a wooded hill. As you approach on the road, you see this church seemingly hanging off the side of the hill. Cars park at the foot of the hill and the monastery is 1.5 kilometers (approximately a mile) almost straight up. Our driver let us out and just pointed up. Mike and I set out walking up. It was very hot and there was very little shade on the road. The incline was, at times, as steep as climbing stairs. About a third of the way there, I asked Mike if this made us "Pious pilgrims" climbing to see the church. We both agreed it did. Shortly after, a mini bus passed us going down the hill. We looked at each other and decided it was a tour company that had paid extra to be able to drive up. Then, after more grueling climbing in the heat, another passed us going uphill. We noticed the group we had been seeing all day were on it. Hmmmmmm. Eventually, drenched in sweat, we made it to the top. YAY. That's when Mike looked at his guidebook a little closer and saw that the bus was offered to anyone for 1 lari round trip. Ok, lesson learned. Read the guidebook more closely next time.
Even with the long, toiling walk uphill, Nekresi was, by far, the hilight of the day. I'd even say it was more than worth every step. The complex of churches and buildings was great. We wandered around for quite a while soaking in all of the history. For the trip back downhill, we decided to hitch a ride on the bus. We would have even paid the full round trip price if needed. Luckily, they figured we paid to get there and didn't ask.

Nekresi Monastery
Over dinner, I reflected that the climb to Nekresi reminded me of part of the Inca trail. Thankfully, we didn't have to deal with the high altitude, just oppressive heat. I'm not sure which is worse.
Tomorrow we leave Telavi and head to the mountains and Mestia. I've been really looking forward to this part for a long time. Hiking in the mountains. Yes!