Let the adventure begin.
7/18/12 - 7/19/12
75 °F

Mestia
Every adventure starts with a different adventure. The next location we were off to was Mestia, in the Caucus mountains. This was the part of the trip i'd been most excited about. I LOVE the mountains. Any mountains. (Yes, I live in Columbus, Ohio - flat, flat, flat.). From our hotel in Telavi, we took an hour taxi ride back to the Tibilisi airport. According to the flight board, we were going to be the first flight out and it was on time. Mike & I sat and had a nice breakfast waiting on the flight to be called. Not too much later, we heard an announcement...flight delayed 3 hours. This was not a good sign. The flight to Mestia is known to cancel...often. We started to get our plan B in order when, after "just" 2 hours, they called our flight. YAY!
We got in the bus to be transported to the plane and pulled up next to a de Havilland 6 turboprop plane. I, for one was stoked. I think small planes are cool! We handed our bags to the first officer and climbed onboard. I was the first on, besides the couple mom's with small children, and quickly picked a window seat behind the pilot. In this type of plane, there is no bulletproof door between the pilots and passengers. There is no flight attendant. It's just the pilot, co-pilot and the 17 passengers. We chatted with the pilot as he was getting ready. Where else can you do that? Eventually, we got airborne for our one hour flight. (Much better than an 11 hour marshrutka ride.). As we started to get closer, I was having the time of my life, watching out the front window as the mountains got larger and larger. I laughed with Mike saying there would be NO chance my mom would have stepped on that plane.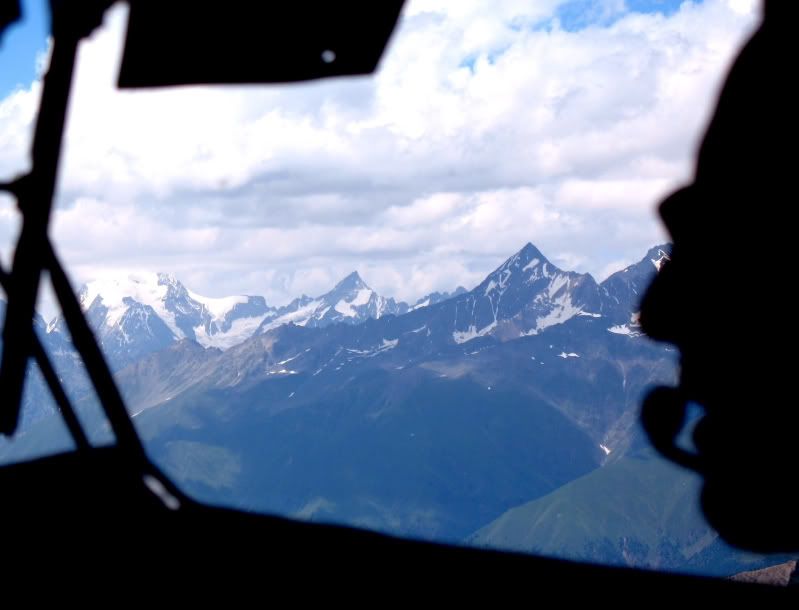 Eventually, all good things must come to an end and we landed at the Mestia airport. Home of only one flight a day...maybe. We grabbed a car to take us to our accommodations, Rozza's Guesthouse. Mike and I have decided that we're just too old to do the hostel thing. We were hoping the guesthouse would be a little more B & B than hostel. Not so much. We did meet some fine folks there, but decided after the first night that we should probably find a different place to stay for our last night in Mestia.
We decided to head into town to get a lay of the land and check with the traveler's information office to get additional details on the hikes and other things to do in town. Mestia is a small town in the mountains that is, of course, in the middle of a MAJOR reconstruction. The streets are torn up and they are rebuilding all of the buildings at the town center. It is, however, still a beautiful town with medieval towers EVERYWHERE! We tried to find the Ethnographic museum that out guidebooks had highly touted. It was closed - in the process of being reconstructed. Next to that is the residence of the local monks with a charming chapel. The gate was open, so we decided to try to look. Not. So. Fast. Mike was allowed in, but I was not since I'm a woman who was not "properly" dressed. Again. Mike got his photos and we continued to check the town out.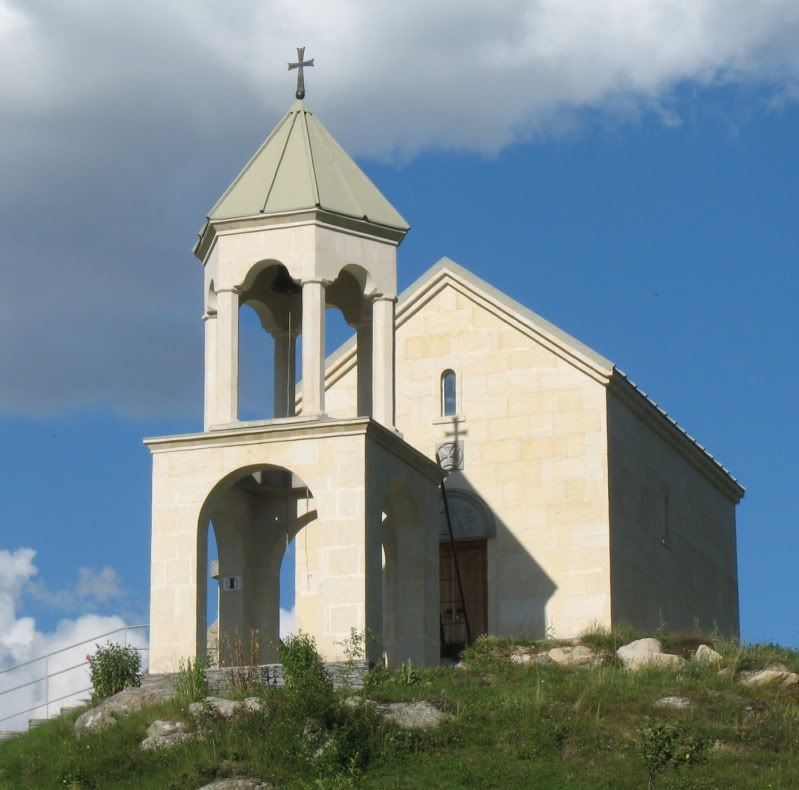 Chapel
We headed back into town and found a couple of travelers staying at our guesthouse having a drink at a cafe. We stopped by and talked about our travels and enjoyed a beer to help cut the dust everywhere. We decided to make it an early night because the next day we were heading to Ushguli, the highest populated town in Europe which was supposed to have some amazing views. Over dinner at the guesthouse, we met a couple from Ukraine who offered to share the cost of the car to take us to Ushguli the next day. Win / win.
The 2 1/2 hour ride to Ushguli is a VERY rough ride. There is no actual road. The "road" there is mainly an almost two lane gravel road pitted with huge potholes and streams crossing it. Even so, it was worth the discomfort getting there. We arrived in Ushguli and were in heaven. The town is in three sections, each with towers everywhere. The driver gave us 3 1/2 hours to wander before we had to meet for the ride back. Mike and I immediately shot off, cameras in hand, looking for the best views which is easy. There are great views everywhere you look. We checked out middle and lower but saved upper for last. From upper Ushguli, you have views of Mt. Shkhara, the highest point in Georgia. BEAUTUFUL! Ushguli is one of those places that you can try to describe until you turn blue in the face but the words can never quite do it. The air is so clear and the sky is so blue with mountains surrounding you. In a word, heaven.
I was afraid 3 1/2 hours wouldn't be enough time. It was perfect. We met up with the Ukranians and driver and started back on our bumpy ride to Mestia. We all agreed on the drive that this was going to be one of those days that will remain in our minds forever.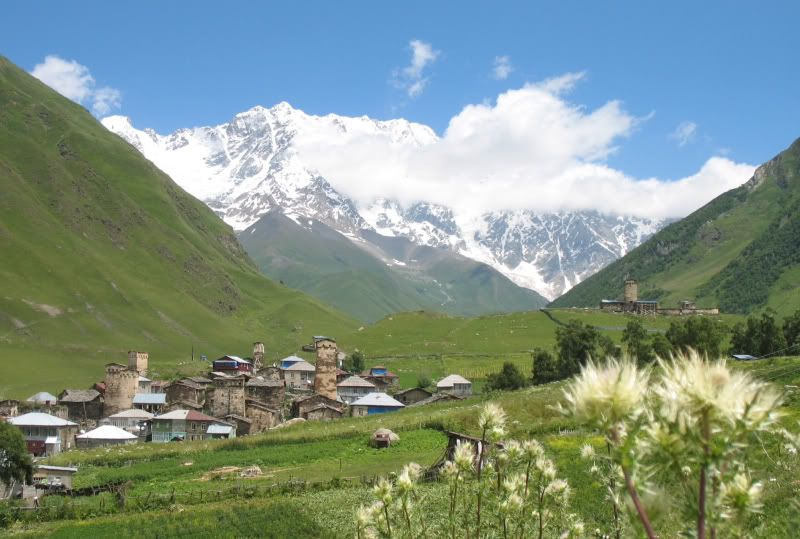 Posted by Jengt 06:18 Archived in Georgia Tagged mountains 6 dehavilland