9/8/15 - 9/11/15
62 °F
Wow, it's been a busy few days to start my trip to Czech Republic and Poland. I hit the ground running as soon as I got into Prague on Tuesday. I like to take the first few hours in a city to get my bearings. That's not so simple when the streets are narrow and winding like they are here. I still managed to find the major sites I wanted to see right away - Old Town Square, the Old Town Hall and the Charles Bridge. I climbed the stairs to the top of the Town Hall to get a bird's eye view and to get my bearings. Little did I know that climbing is going to be the watch word of the week. Seems everywhere I go, I have to climb stairs or some crazy hill to see what I want to see?

Old Town Square from the clock tower

Astronomical Clock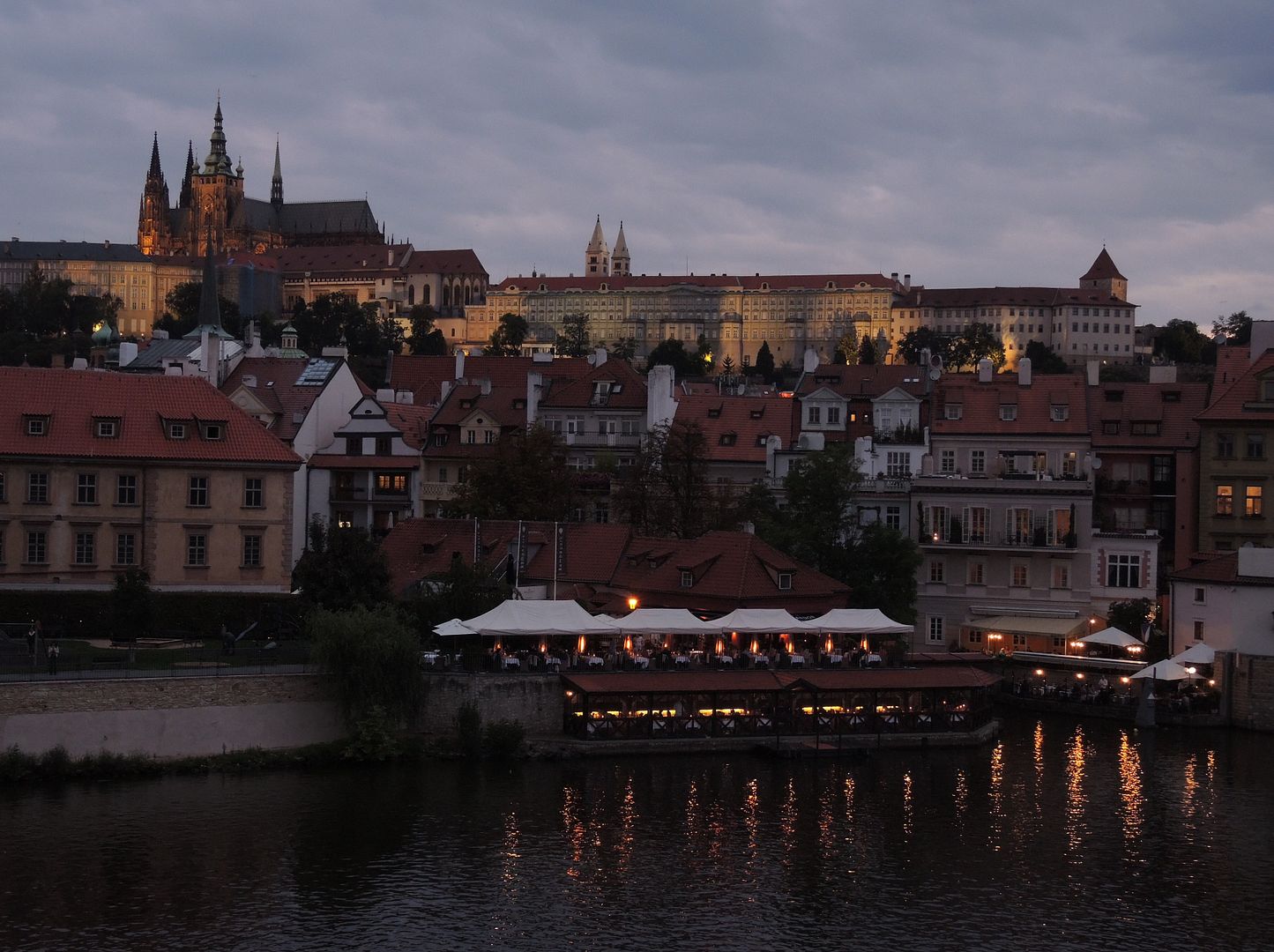 Prague Castle at night from Charles Bridge
My first climb was up to Prague Castle. I stopped by St. Nicholas Cathedral on the way. At the top of the hill is (according to Guiness) the largest castle in Europe. I have to say, it is certainly the largest I've ever seen. There's a HUGE cathedral (St. Virus Cathedral) within the castle walls.

Crossing Charles Bridge

St Vitus Cathedral

St. Vitus Cathedral
Inside the Old Royal Palace, is a large hall used for coronations. At one time, they held jousts inside! There is a special staircase for the horses to enter. The castle is so large It took me over 1/2 a day to get through everything I wanted to see there.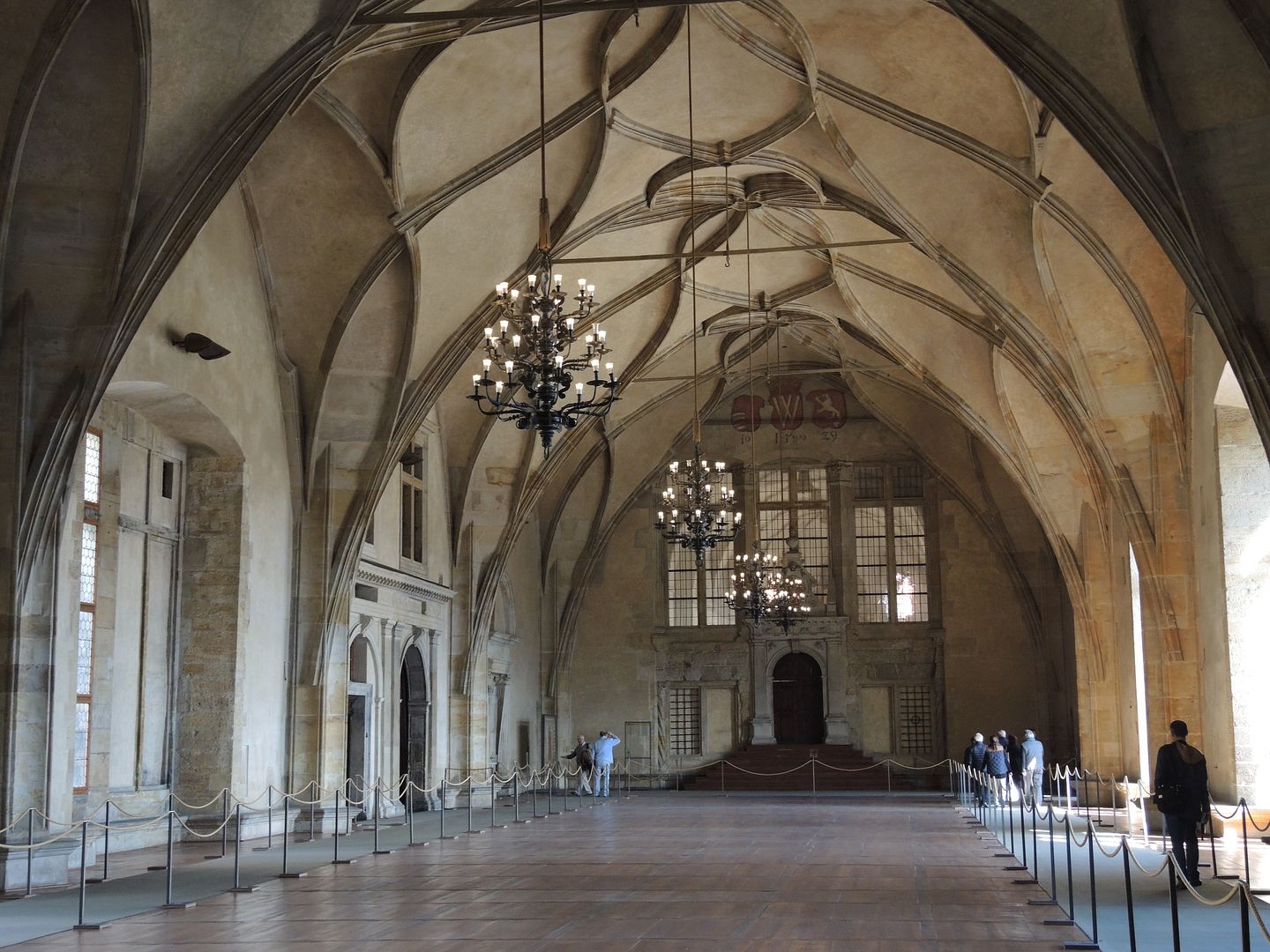 Great Hall in the Royal Palace
After the castle, I headed over the river to the Jewish Museum and the Jewish Cemetery. I had read about the cemetery but couldn't believe it until I saw it for myself. It's been "closed" to new burials for over 200 years. However, they have brought headstones from other Jewish cemeteries and it seems they've just piled them in. It had just started to lightly rain which added to the palpable sense of mourning there.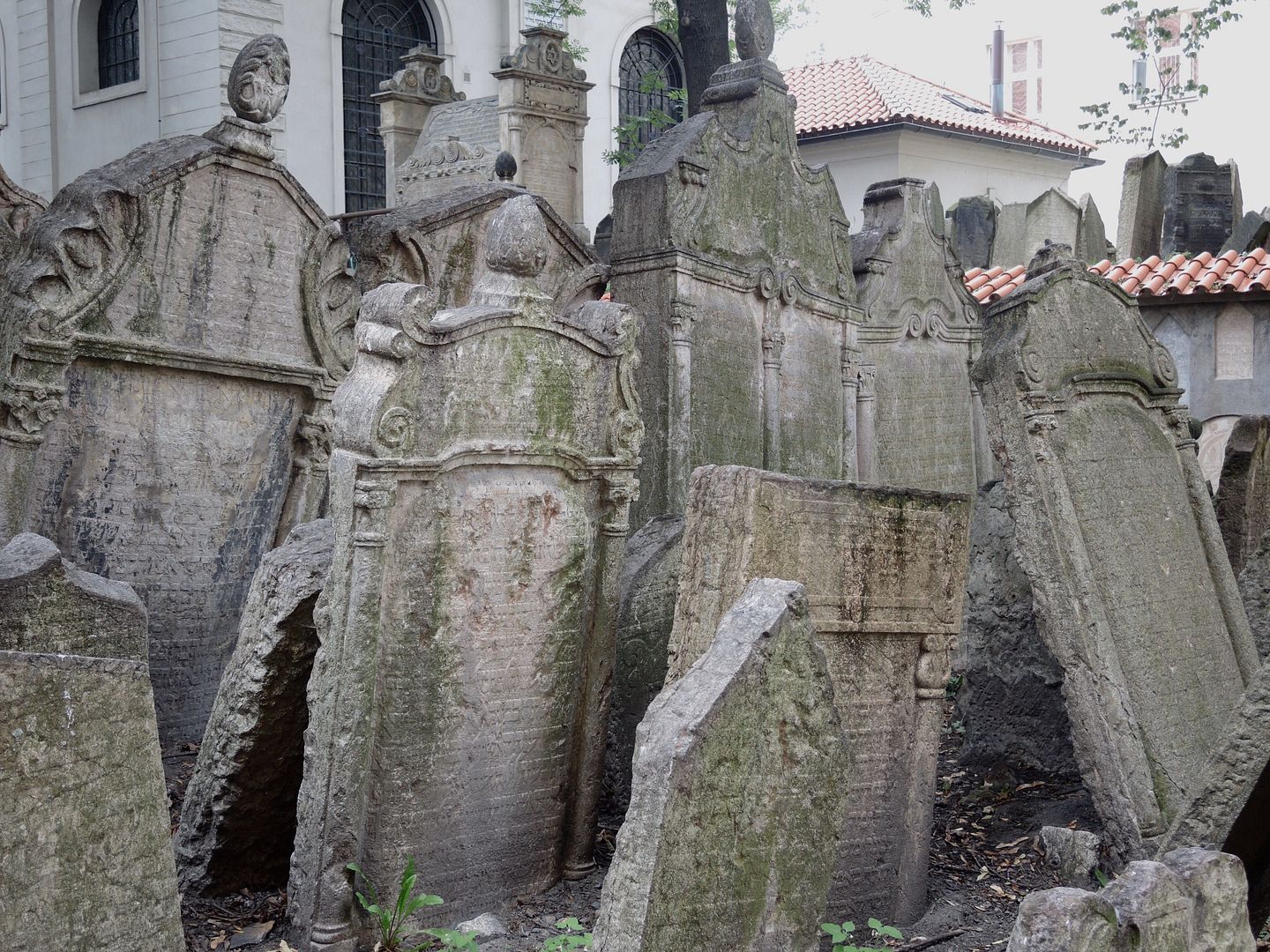 Jewish Cemetery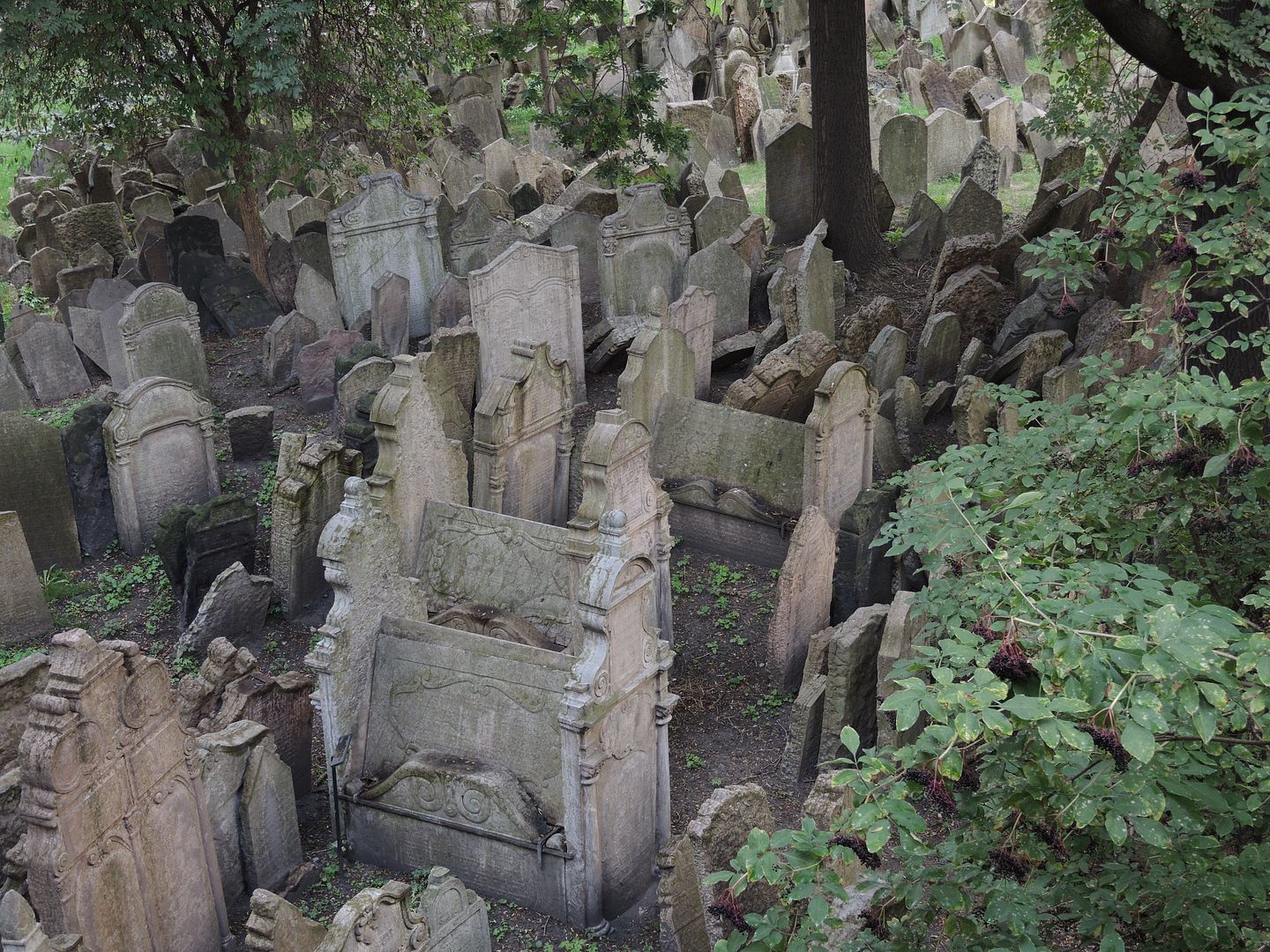 Jewish Cemetery
After leaving the cemetery, I wandered back towards the Old Town Square and my hotel. I grabbed a quick late night bite for dinner and called it an evening.
The next day I was off on a day trip to Kutna Hora which is about 40 miles outside of Prague. In Kutna Hora is one of the strangest things I've ever seen...an Ossuary. Apparently, at one time it was normal to take the bones of the dead and pile them all in a single place. However, that's not the strange part. In Kutna Hora, they decorated the Ossuary with all the bones. There is a bone chandelier and four huge pyramids of bones! It was all very weird. Upstairs is a simple, normal chapel and outside is a normal cemetery. I have to say, it was more than a little creepy!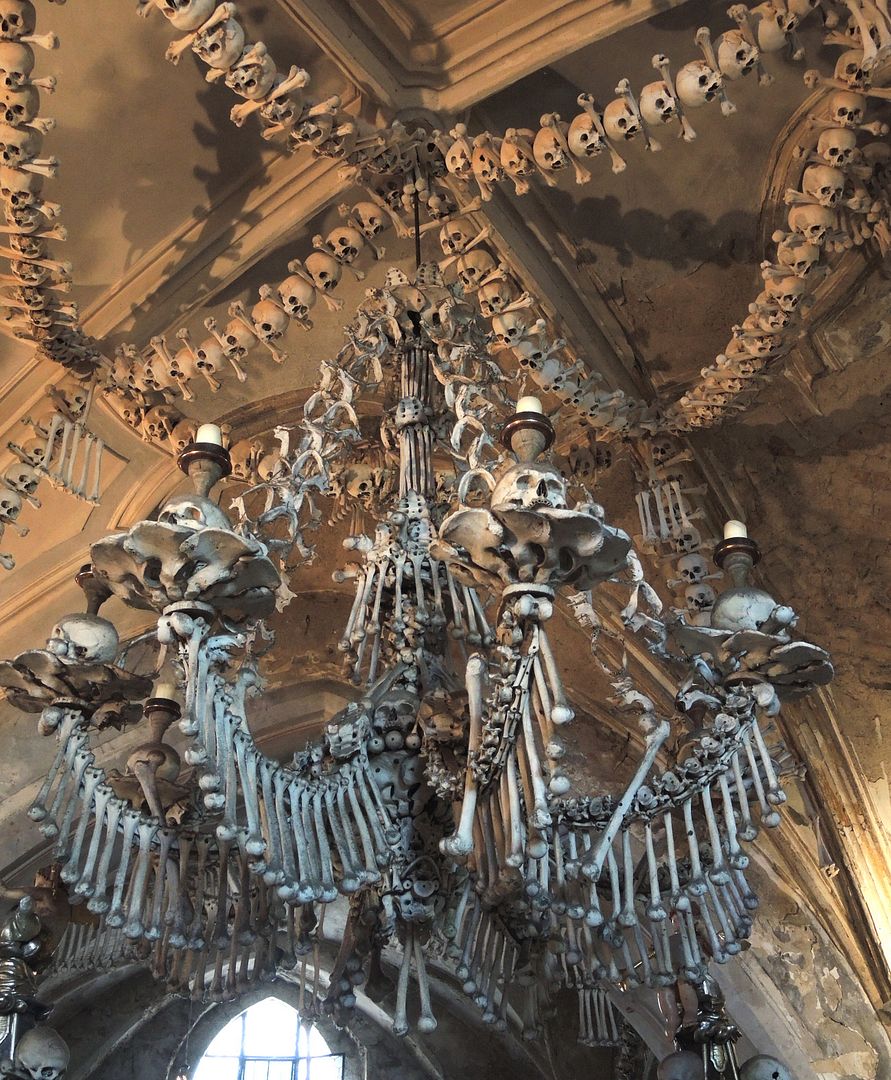 A chandelier made of bone!

A crest made of bones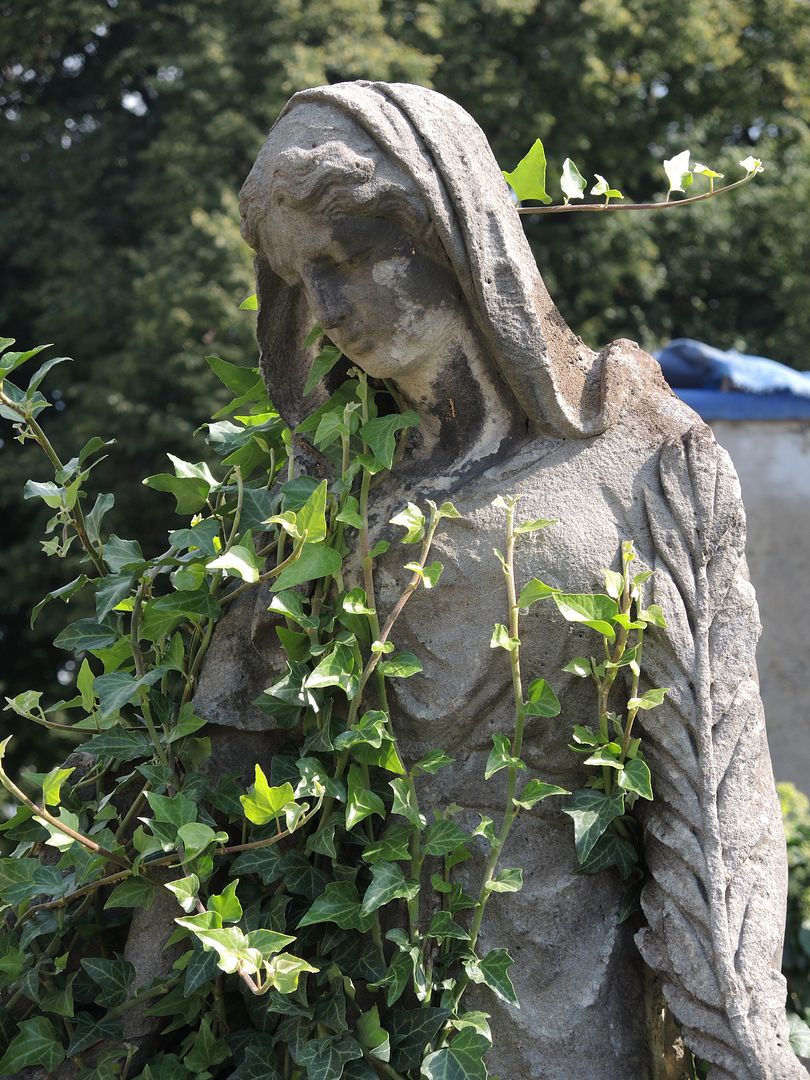 Tombstone outside the Ossuary
Also in Kutna Hora are a couple of churches, including St Barbara's Cathedral - another fantastic cathedral with flying buttresses and gargoyles everywhere. Inside are beautiful stained glass windows and frescoes along the walls and ceilings. Along the back is a chapel for the silver miners. At one point, Kutna Hora alone supplied 60 percent of the silver in Europe!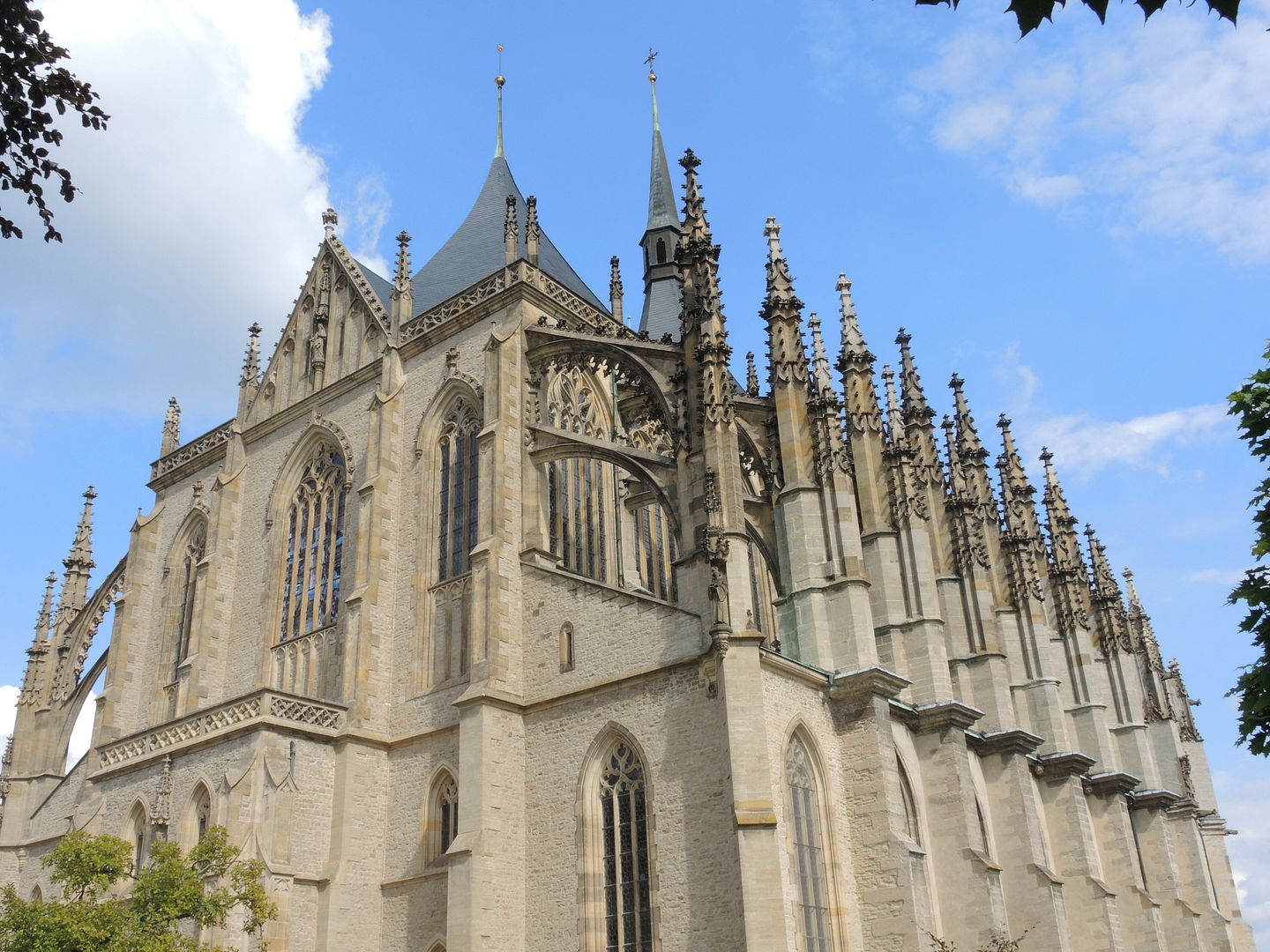 St Barbara's Cathedral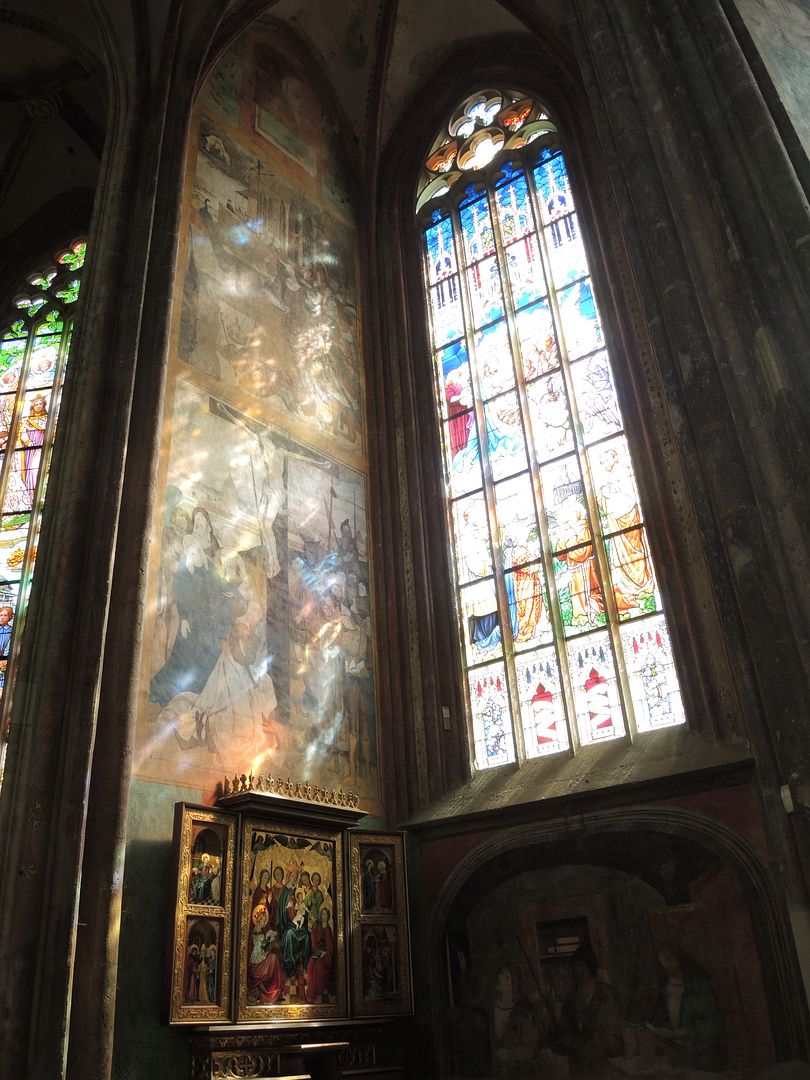 Frescoes and stained glass inside St Barbara's

Chapel of the Miners
Speaking of silver, they offer tours of an old medieval silver mine. I had to check it out, since I was there. They start with describing the conditions the miners had to endure and then we all donned a cover and hard hats and descended into the top level. Everything below has flooded. It was very interesting to see how they mined the silver with nothing but a couple of hammers and tiny oil lamps. How they managed to get as much ore out as they say, I'll never understand. They showed a painting of the town and all of the different trades that went into producing the coins made from the mines. The guide drew our attention to the fact they showed forests all around the town. He said at the time it was painted, the area had been pretty much deforested due to the constant use of wood for the mining and smelting process. The trees have since grown back.
Thursday, I decided on another day trip. This time to Karlstejn Castle. Remember my comment earlier about climbing? Another castle, another big hill. Karlstejn started off as a medieval castle which was later morphed into a fortress for the Crown Jewels and treasury for the Holy Roman Empire. Like so many castles in Europe, this one can only be seen with a guide. However our guide was very knowledgable and allowed time for us to ask questions. We weren't hurried along like so many do. The castle is so strong, it held off a siege from the Hussites for nearly a yea. It was eventually taken but the Hussites never made it into the Great Tower. I really enjoyed this trip. I had thought about just staying in Prague for another day. I'm so glad I took the time to check it out!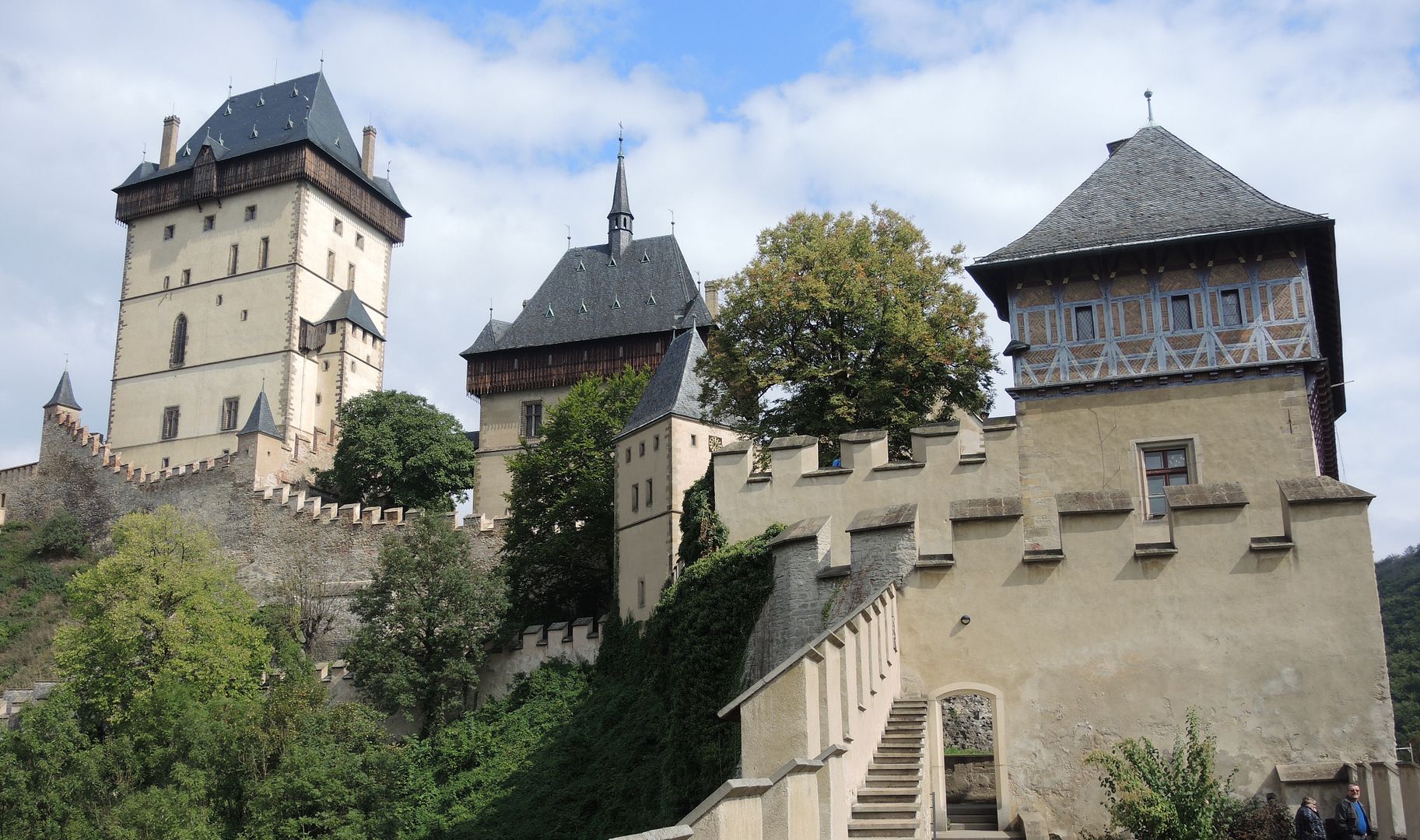 Another castle on a hill - Karlstejn

The town of Karlstejn below the castle
Back in Prague, I had previously seen what appeared to be the Eiffel Tower. Built for the 1891 Exposition, it has a beautiful view over the city. Back from Karlstejn, I headed over to check it out. Did I mention it's on top of a HUGE, very steep hill? I got there late in the day when the sun had that wonderful golden hue and was shining over the entire city. What a beautiful send-off.

Eiffel Tower replica

The Charles Bridge

Prague from above
I truly enjoyed my time in Prague. I can understand why so many people visit. It grabs you from the moment you get there and stays I your heart.
Up next, my day in Cesky Krumlov.
Posted by Jengt 06:45 Archived in Czech Republic