Going from rich to poor in one easy step.
3/22/17 - 3/22/17
73 °F
There are certain places that are iconic and must be seen. El Caminita in the La Boca neighborhood is one of those. I'm certain that nearly everyone has seen photos of the brightly painted houses in Buenos Aires. Everything I had read about this neighborhood stated that it was safe around the tourist area, but you shouldn't linger around any of the surrounding areas. Well, that makes it hard to get there if you're not part of a tour group. We decided to take the advice with a few grains of salt and take the subway as close as possible and then stick to main roads from there.
It was still a little cloudy as we got started so we decided to take a tour of the Teatro Colon, the opera house just 2 blocks away from our hotel. We had held off visiting when the sun was shining. Why waste beautiful weather inside? The theater was built in the late 1800s in full European style. There's Italian marble, stained glass, red velvet upholstery and gold gilding everywhere. Our tour guide stated that the architect wanted to imitate Versailles and the opera houses of Milan and Paris. No expense was spared.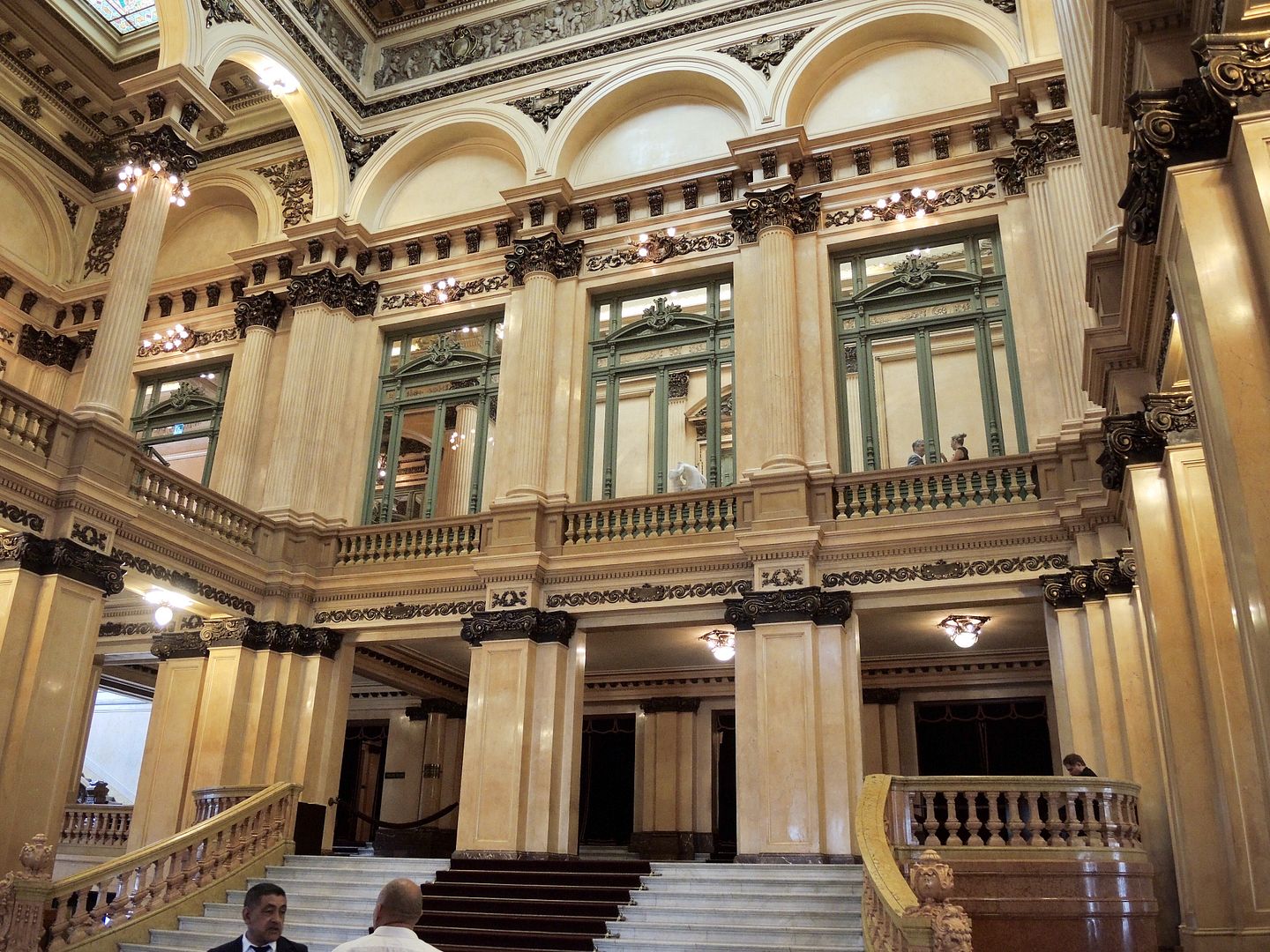 Teatro Colon's grand staircase

Stained Glass Dome
As we entered the main theater, all eyes were drawn up and around to the boxes and galleries. All had rich red drapes and fine furniture. The guide stated the acoustics of this theater are the best of all opera houses around the world. Although there may be seats with sub-par views, there isn't a bad seat in the house in regards to the sound. Oh, how I would love to hear a performance here! I'm not a fan of opera, but I would definitely enjoy an orchestra concert!

Inside the theater. It seats around 3,000!
After our theater tour, we set off for the subway and La Boca. It was after noon so the cars shouldn't be too , so we thought. The cars were PACKED! I thought about just getting right back off and taking a cab, but Mike insisted we go a little further to see if we had just caught a small influx. Once we reached our stop, we noticed there were people marching along one of the main streets. Not just a small group, but thousands of people. We later found out that there was a massive demonstration on the main square and all of these people were marching there. We were glad we had already visited the Plaza de Mayo earlier in the week!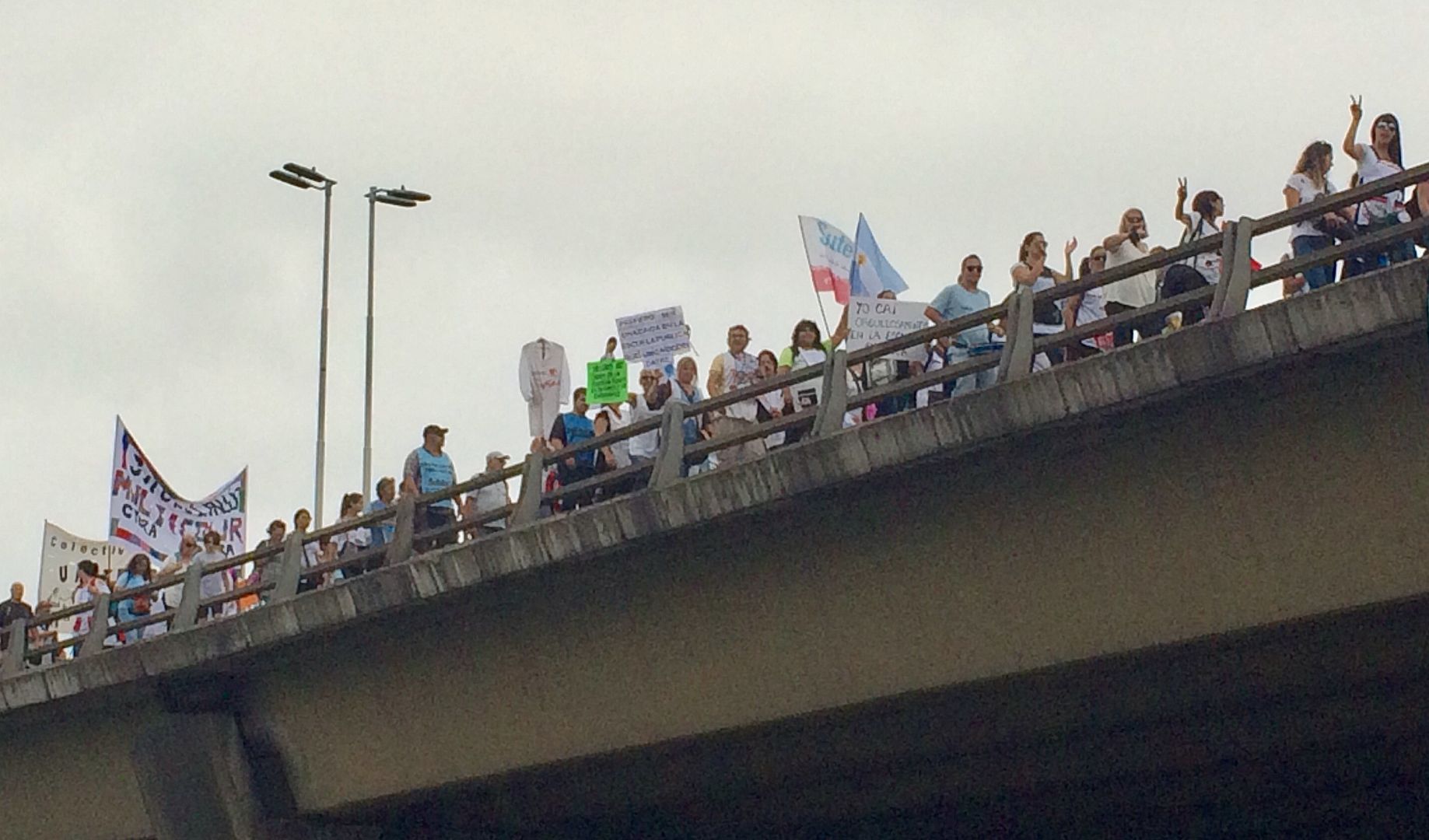 Protesters on their way to the demonstration
Unfortunately, La Boca is not well served by the subway so we had a good long walk to get to El Caminito. My trepidation about walking in the neighborhood was completely unfounded. Of course, it was broad daylight and we know enough to be aware of our surroundings and not have our cameras out as a big red flag asking to be mugged.
As we approached the area, the weather gods looked favorably on us and the sun started to peek out from the clouds. The brightly painted walls of the houses beckoned us forward. Even the bus loads of people couldn't dampen my spirits as I took photo after photo. The La Boca neighborhood is along the river, where the rich used to live - until yellow fever broke out and the wealthy just picked up and left. The dock workers just moved into the newly vacant houses and made the neighborhood their own. As more people moved into the area, they built houses out of tin and whatever they could find.
It was amusing to see the various plaster statues hanging out windows, standing on corners and in various shops. Pope Francis was everywhere. I'm not kidding, I saw no less than six Pope Francis statues in 3 blocks. That guy gets around! There were also various murals and amazing artwork on the walls throughout the area. This neighborhood was definitely worth the walk!

Pope Francis blessing all who walk past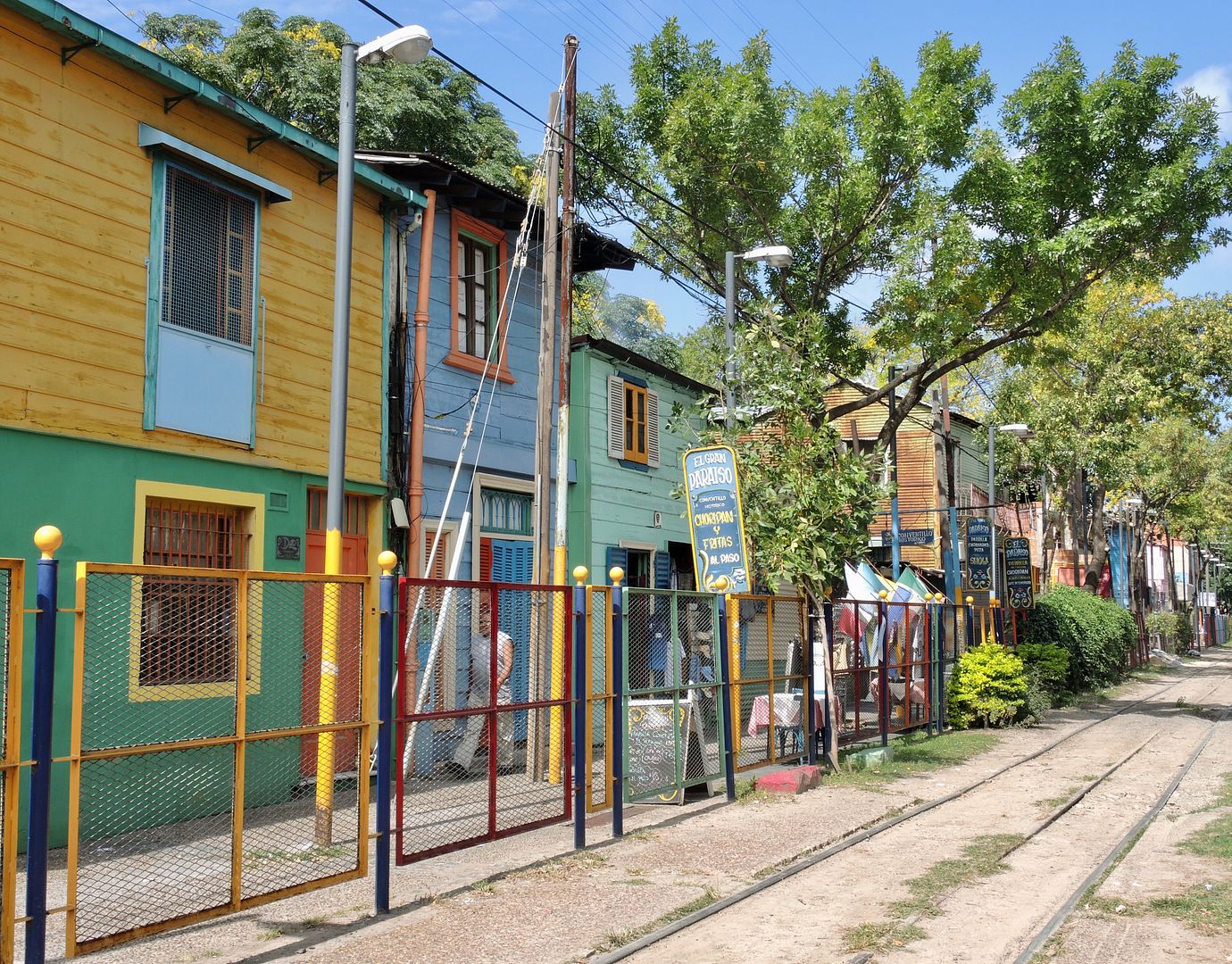 Knowing the subways would be packed to the gills, we opted to grab a taxi back to the hotel. The cabs in Buenos Aires are relatively cheap and provide an affordable alternative to a hot, crowded subway. Plus, you get dropped off right where you're going! On the way back to the hotel, we passed groups of people carrying their banners and signs heading home from the demonstration. I was doubly glad we opted for the taxi!
La Boca ended up more wonderful than I had imagined. Although it was touristy, it was art in a more approachable form. It's absolutely worth the trip!