4/1/15
98 °F
Today started with our final breakfast at Las Islitas Hotel in Granada. Each morning, we have been treated to a great breakfast of eggs, fruit, potatoes or other side and bread. Today, we shared a huge plat of various fruits, pineapple, orange slices, melon and bananas. Sooo good! We settled up with the owners and said farewell. If you're ever in Granada, Nicaragua, it's a great little hotel with extremely friendly staff!
Our driver showed up right on time and it was on the road again for our transfer to Leon. We had decided on a side trip on the way to Leon Viejo (old Leon). Leon Viejo was the Colonial Capitol of Nicaragua during the Conquest. It was abandoned in 1610 after an earthquake and rebuilt on the current location. Archaeologists had nearly as difficult time finding the original site as our driver had finding the UNESCO site today. The turn-off from the main road is non-existent but once you get on the side road it's on, there are signs every 50 feet. Go figure.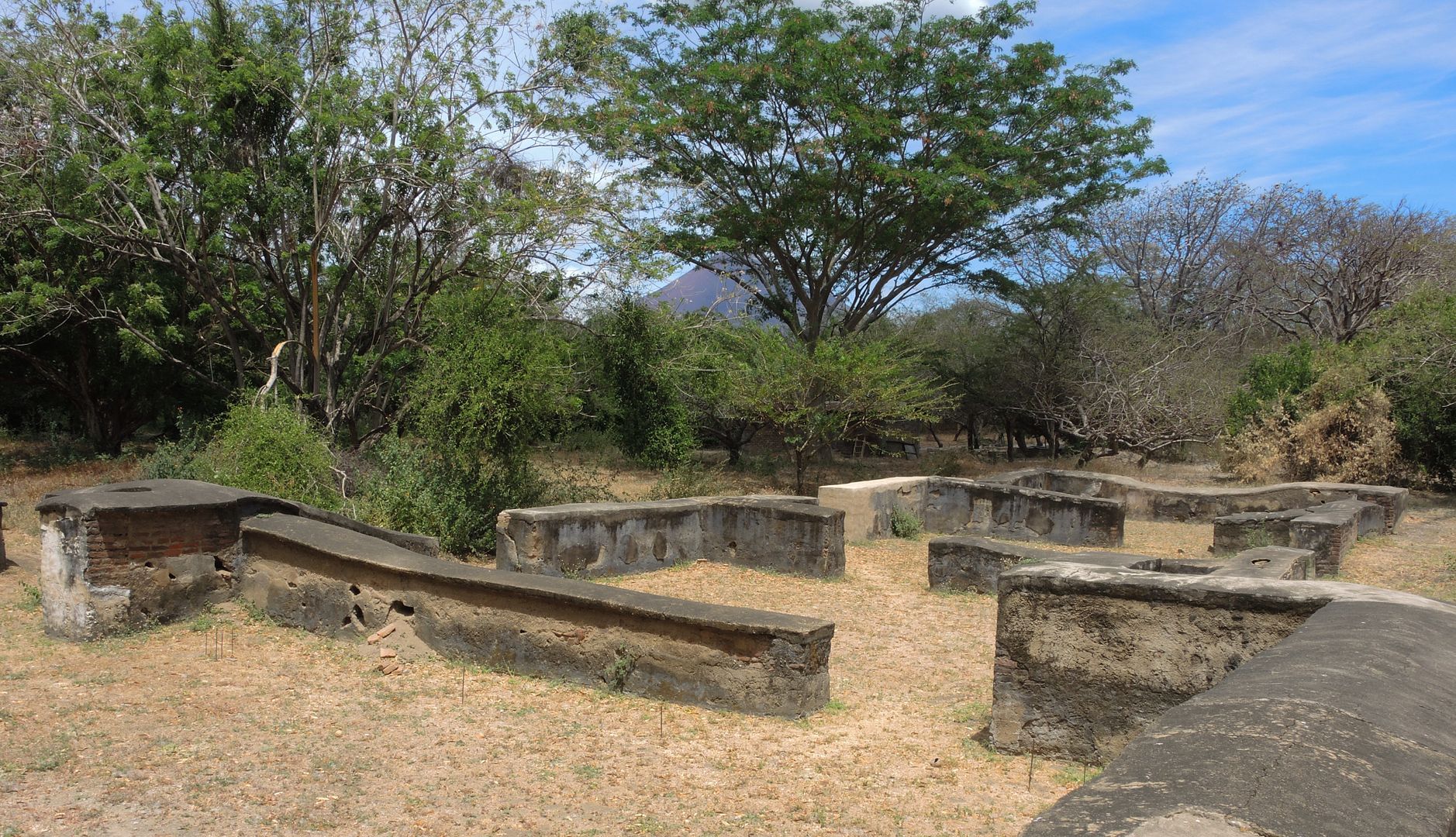 Part of the foundry building in Leon Viejo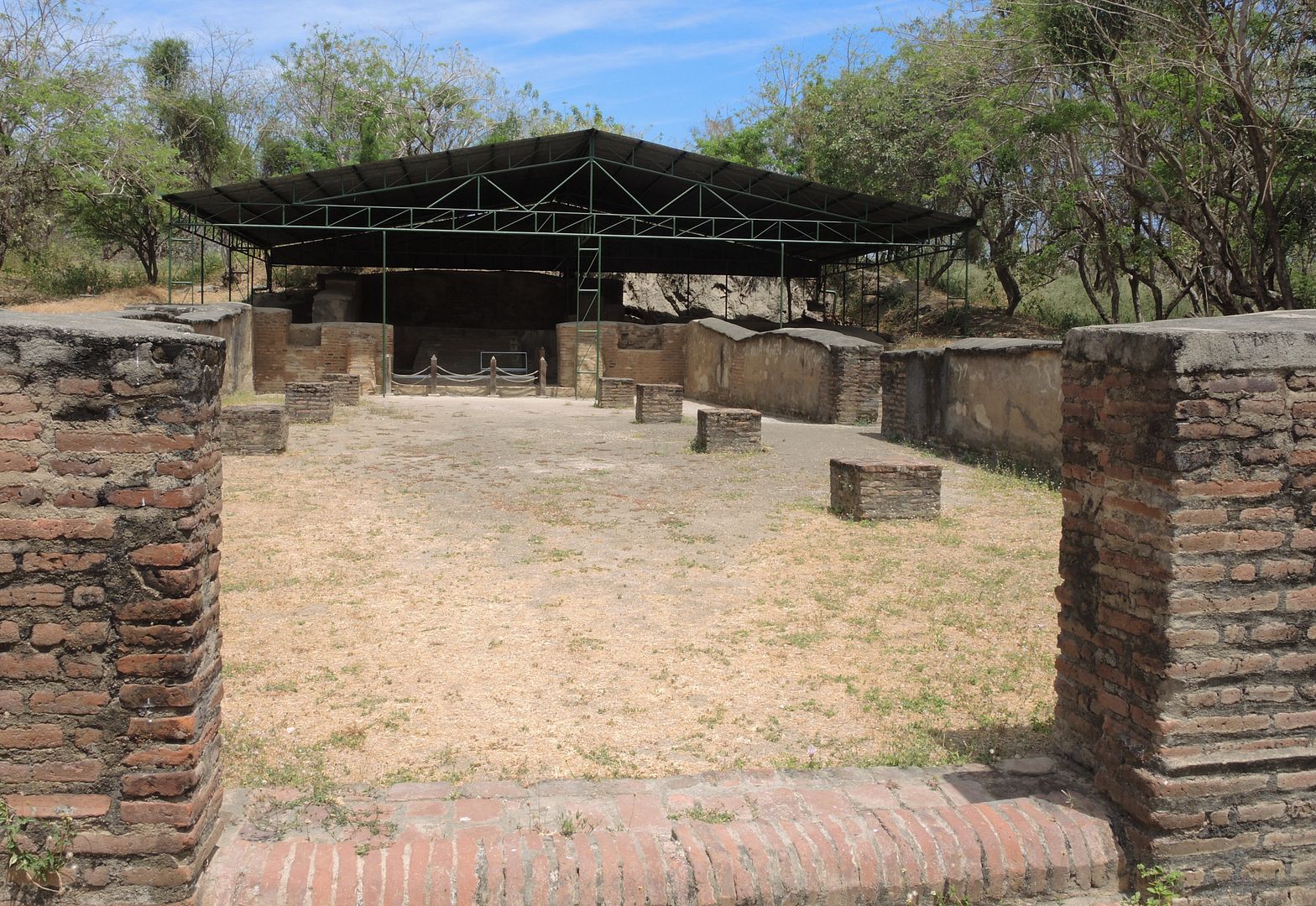 Our Lady of Mercy Church
We paid our entrance and were given a guide. Jose gave us some background on the indigenous people and then we set out to see the grounds. It was quite interesting seeing the buildings and hearing how they had been excavated and then re-buried when a hurricane threatened the site. Jose enjoyed showing us not just the buildings but also the local trees. I have to say, there are a couple of odd ones. After a couple of hours in the (very) hot sun, we loaded back up in the car for the remainder of the trip.

Strange tree that has fruit growing directly off the tree li

White snow tree. It works a lot like a cottonwood tree where all of the seeds float off and coat the ground in a carpet of white.
Leon has much more of a big city feel than Granada. I don't know if it really is bigger though. We got settled in our new room and headed out to check the city. Our hotel is centrally located just 100 yards from the Cathedral and central plaza. Part of the interest of Leon for me is the fact that they REALLY celebrate Holy Week with processions and other festivities. We were told by one of the owners of our Granada hotel that Leon is a much more devout town than others in Nicaragua.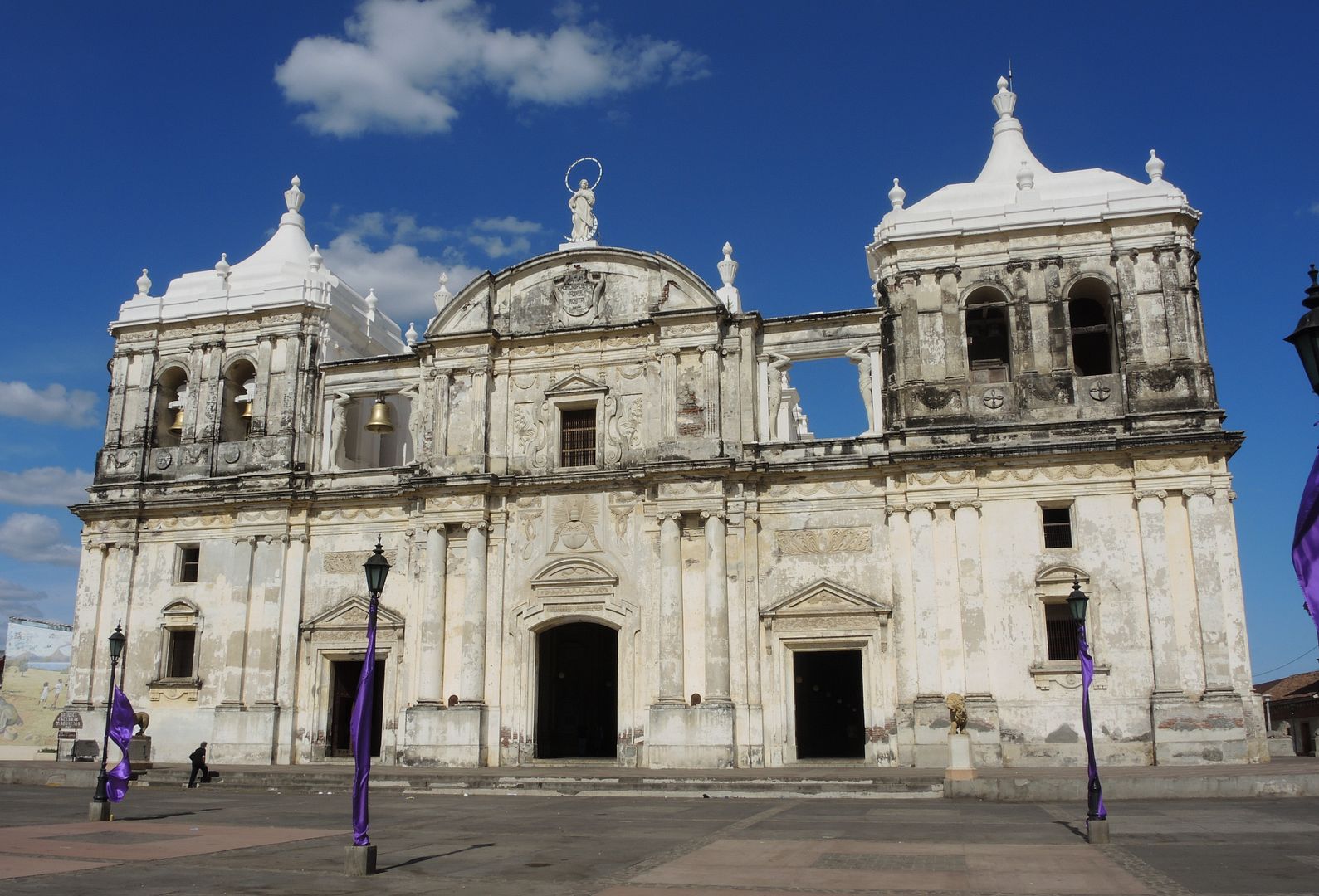 The Cathedral

Iglesia de La Merced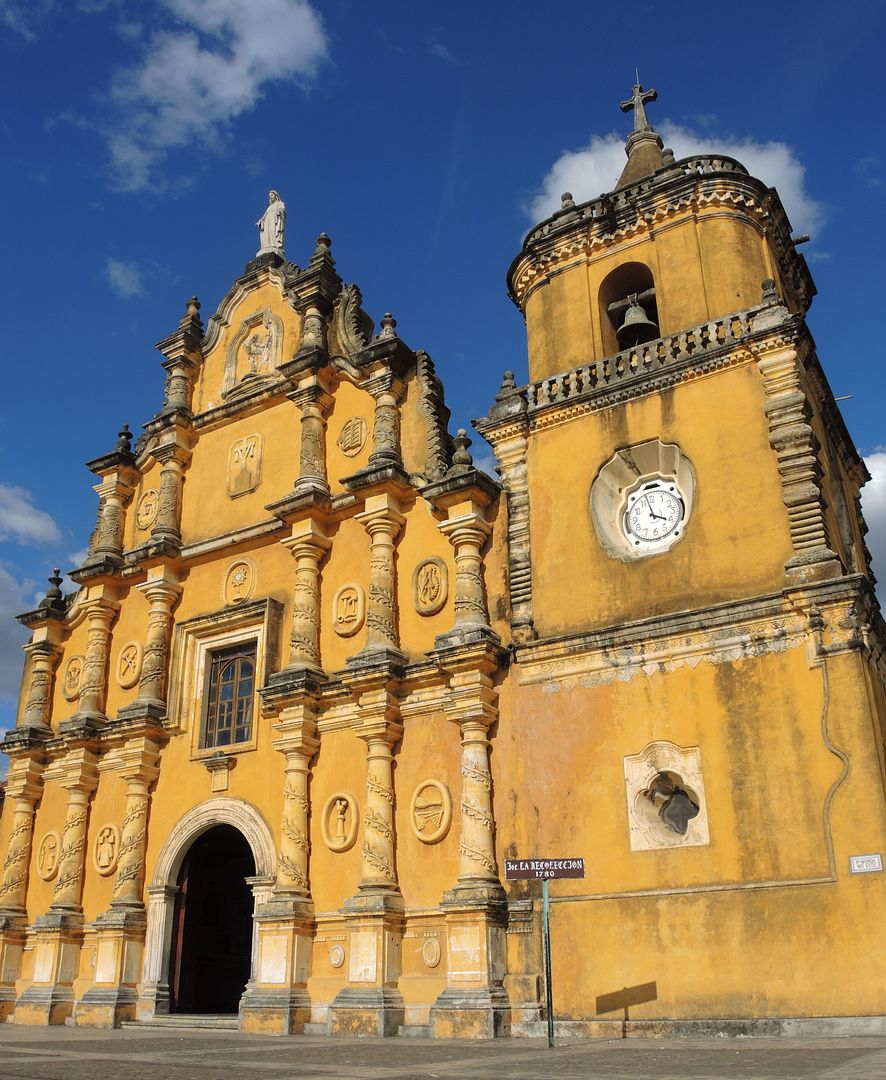 Iglesia de La Recoleccion
We checked out a few of the churches starting, of course, with the Cathedral. Supposedly, this cathedral was approved to be built in Lima, Peru but the plans were switched by the architect at the last minute and Leon got it instead. Lucky Leon! It's a beauty!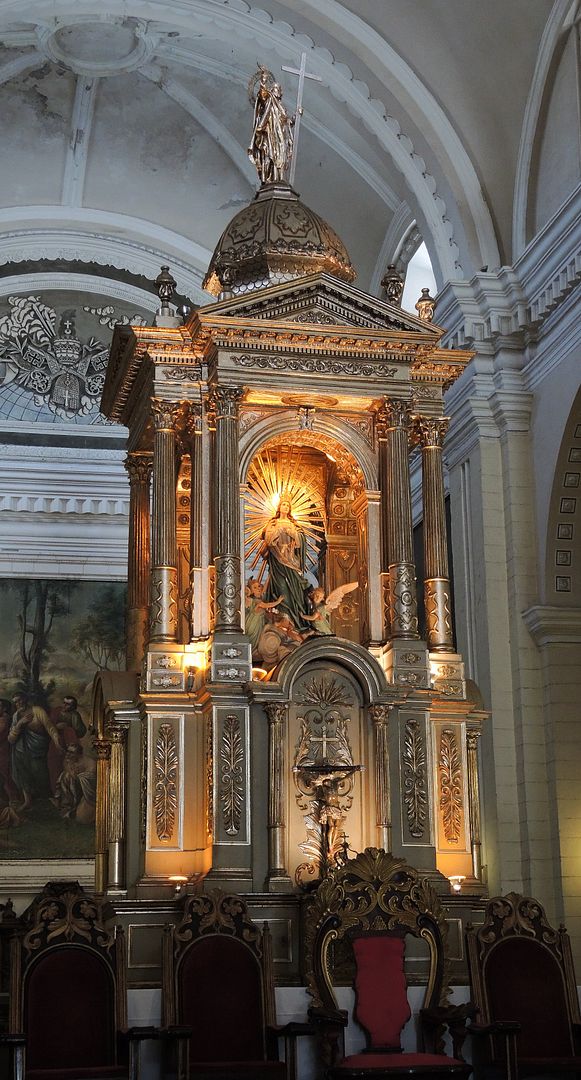 Altar in the Cathedral
After a couple of hours out and about in the sun, it was time for a cool shower (not by choice) and then to see if we could catch another procession, this one leaving from the Cathedral. As we reached the central plaza, the crowd was growing. Seems we're not the only ones interested in partaking in this Easter tradition. It was a beautiful "float" with even the Cardinal in attendance.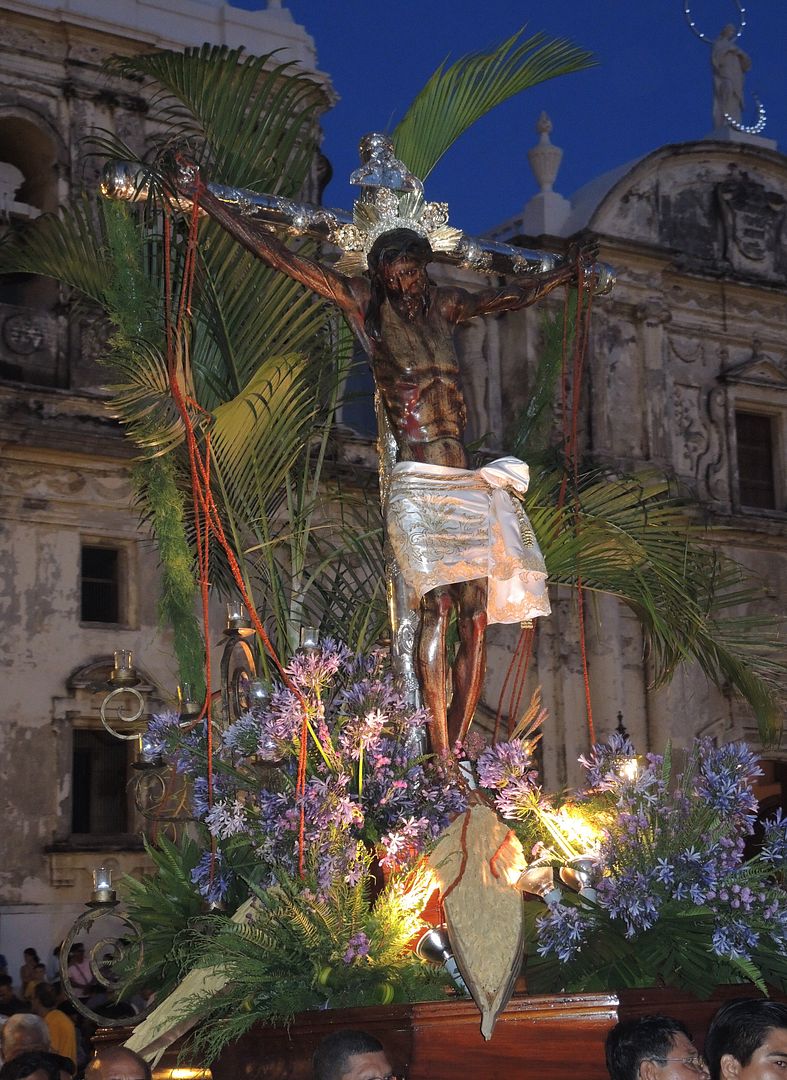 Beautiful Holy Week float
If today was set aside for history, tomorrow it's back to adventure. Our reservations are made to climb Cero Negro and 'sand boarding'! Mike is amazed I want anything to do with this since I am an admitted klutz. Maybe so, but I refuse to grow up and sand boarding sounds like too much fun to pass up! Stay tuned...if Mike has to post my next entry, you'll know I may have bitten off more than I can chew. I'm thinking not.
Posted by Jengt 21:52 Archived in Nicaragua Comments (0)