3/28/15 - 3/29/15
95 °F
I knew it was going to be hot. Really, I did. In fact, that was one of the pluses for going to Nicaragua.
We got into Managua, Nicaragua around 1:30am Saturday morning after a one hour delay
leaving Ft. Lauderdale. Thankfully, we planned ahead and asked for a driver to pick us up for the 50 minute drive to Granada. We talked with the hotel rep on the way in about our plans and what we wanted to see in the three days we'd be in Granada. We figured we'd take the first part of Sunday to get our bearings and check out some sites in the city. From there, we'd finalize the rest of our time here.
I was repeatedly awakened to the sound of what seemed to be firecrackers off and on from just before dawn until we finally rolled out of bed around 8:30. It turns out, that since it's Palm Sunday, the churches hold processions through town and set off a noisemaker as they turn a corner. Mystery solved.
Granada is a very walkable city. We got a map and started out to see what we could. There are several churches we wanted to see. The first is the Convento San Francisco. Formerly a convent which now houses a museum. As we approached, we noticed that Mass was still in session. It was an interesting background as we walked around the grounds looking at the ancient pottery and stone sculptures from Zapatera Island dating back as far as 800AD.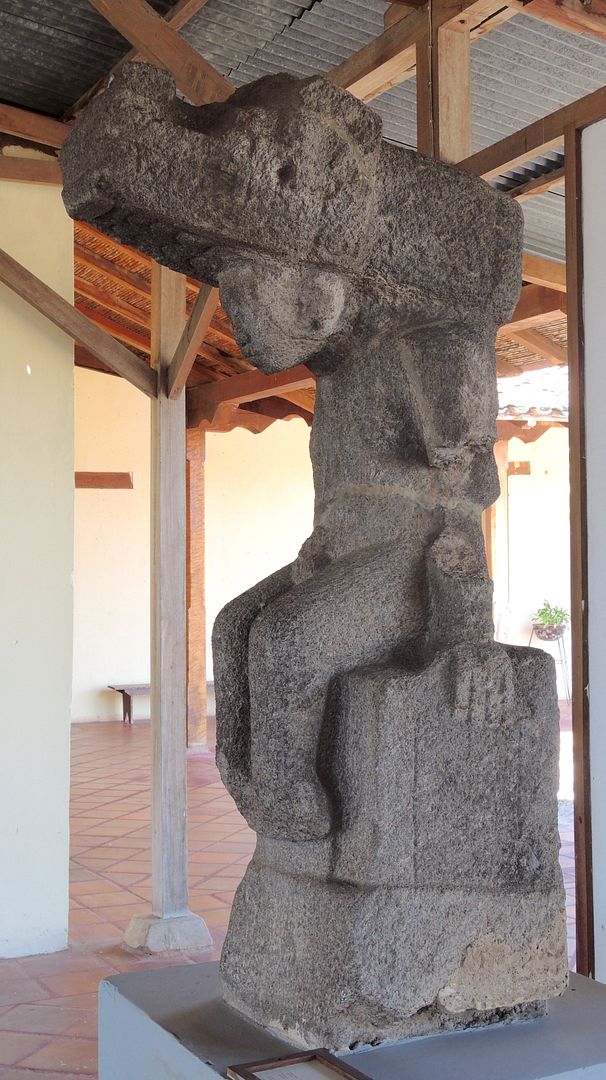 Statue from Zapatera Island
The next couple of churches on the list were shut up tight by the time we got there. Apparently, even on Palm Sunday, churches close at noon. We still managed to get some lovely photos of the exteriors. However, one item we missed out on is climbing the bell tower of the Iglesia de La Merced church. It's supposed to have the best views of the city and surrounding area. Oh well, maybe another day. The last stop for our morning was Mi Museo, a privately owned museum of ceramics dating back to 2000 BC.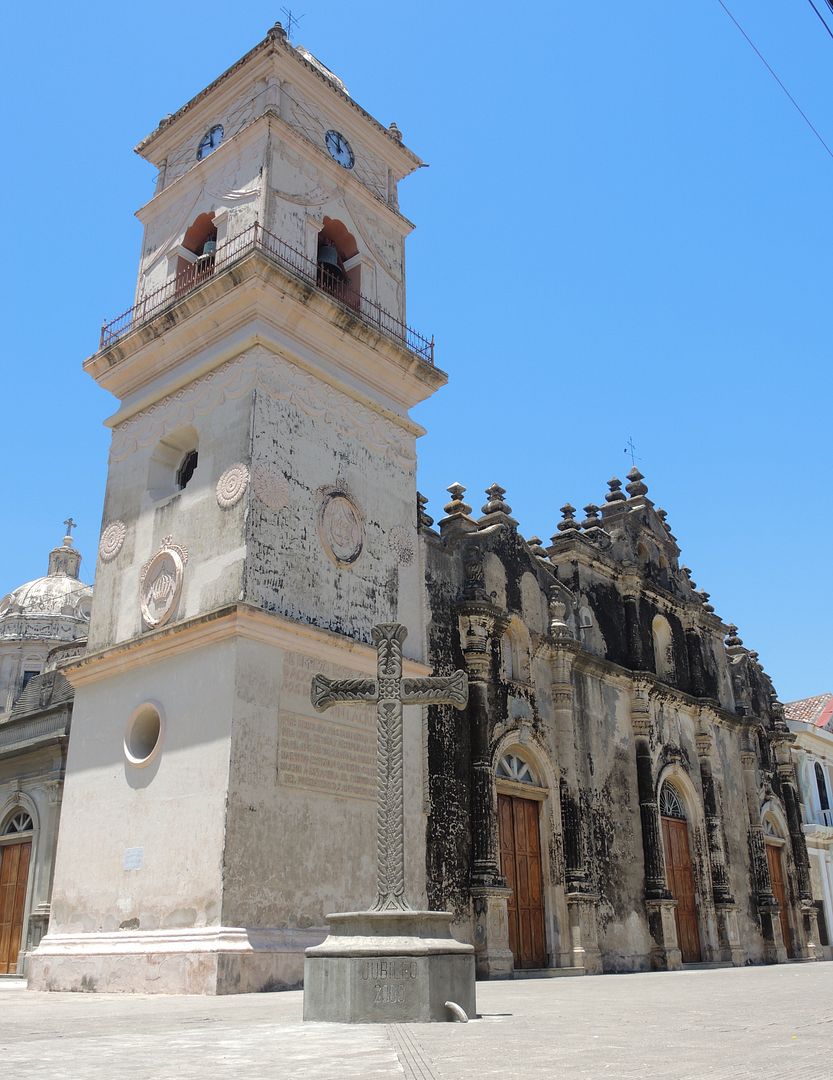 Iglesia De La Merced

Iglesia de Xalteva

Pottery in Mi Museo
The temps are climbing steadily now. It's well over 90 and the hottest part of the day is yet to come. We decided to take a break and go back to the hotel to cool off and figure out what we were doing that afternoon. We decided on a boat tour around a group of little islands off the coast of Granada in Lake Nicaragua. It was nice to ride along with a breeze checking out the many small privately owned islands. On one was a former Spanish fort and another was inhabited by spider monkeys. The homes on some of these islands are quite stunning. I think I know where I want to live after I retire. HA!

Las Isletas

View of Volcan Mombacho from Castillo San Pedro

Spider Monkey
Tomorrow, we're off to Volcan Masaya for hiking and zip-lining in the canopy. For now, I think I'll sit here on the patio and enjoy a cool drink and a cool breeze.

My retirement home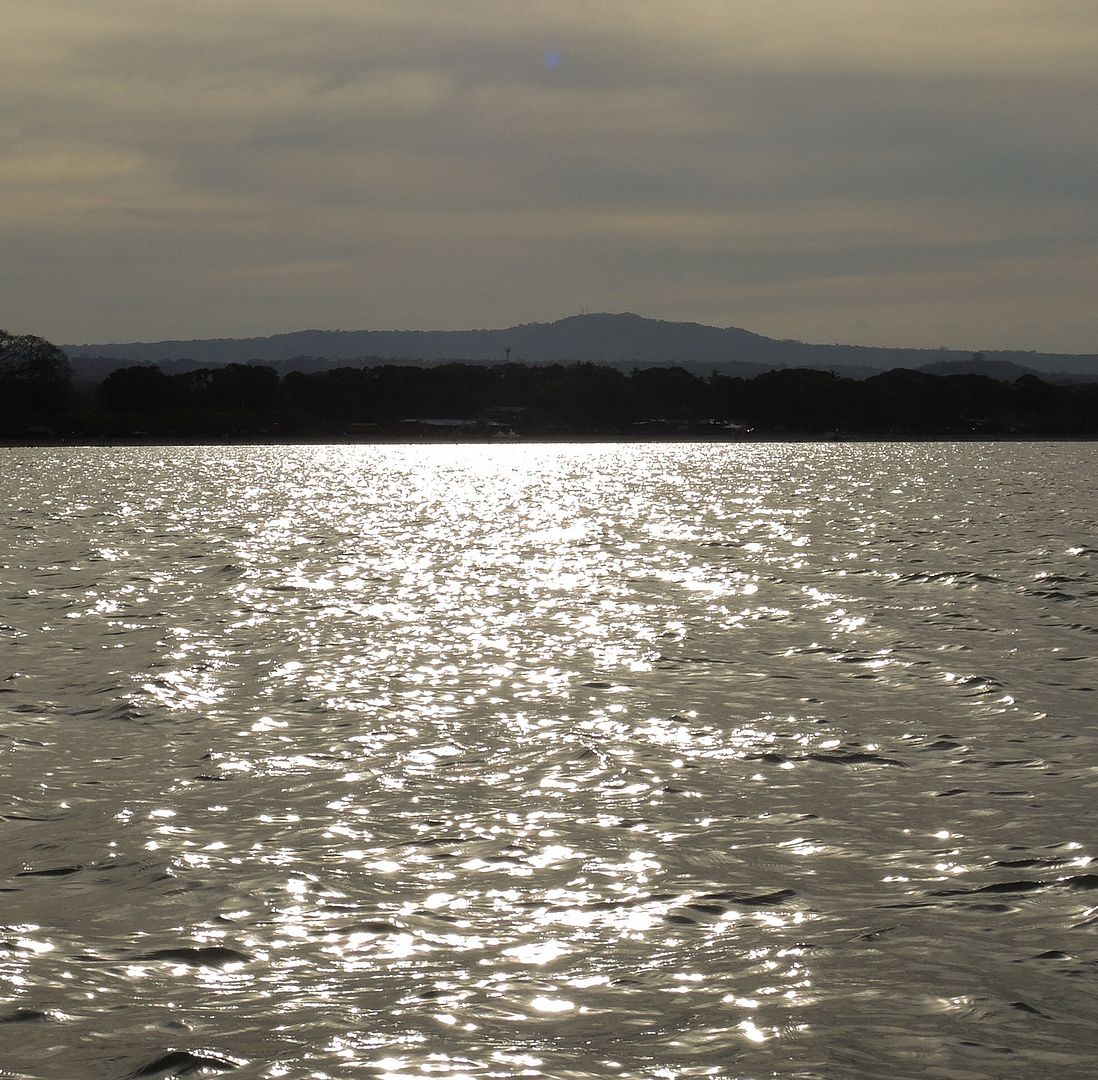 Heading back to shore
Posted by Jengt 20:15 Archived in Nicaragua Tagged churches islands monkey Comments (0)