At times, a comedy of errors
7/24/12 - 7/25/12
78 °F

View of Tibilisi
Our Ukraine Air flight from Tibilisi to Kiev was scheduled to leave at 7:30am. Mike & I decided it would probably be best to get there about 2 hours early, not knowing what kind of security or other issues to expect at the Tibilisi airport. This required waking up at 4am so we could get packed and ready. Ugh! We arranged with our hotel to call a taxi for us to be there at 5am for the drive to the airport.
Not long after we got to the airport, they called our flight to check in. After getting our boarding passes, we headed upstairs to where Passport Control and the gates are. There were only a few people going through Passport Control which was pretty amazing. We still had some time so we decided to have a little breakfast before boarding began. Ah, the calm before the storm.
I have to explain how I've found that airports in Georgia and Ukraine work. There are jetways, but nobody uses them. All of the planes park out on the tarmac and you have to be bused in from the plane to the terminal and from the terminal to the plane. I don't know why. Once our flight was called, we all went through security and were then sent downstairs to get on a bus. Yes, a bus. They tried to cram the entire plane's passengers and their carry-on luggage onto one bus. When there were only 5 or so passengers left to get on, they finally called a second bus to get them since we were crammed on so tightly we were nearly holding each other upright. Nice.
I have to say, the flight to Kiev was quite nice. We landed in Kiev on time - which was great. This was the tightest connection we had allowed for the whole trip. We only had 1 1/2 hours to make it to our Kiev to Zurich flight. THIS is where the old Soviet era craziness is still out there for all to see. We were bused from our plane to the terminal. We were all then sent upstairs (no escalators) to the transfer desk where the ONE person at the desk tells us to sit down with pretty much every passenger from our previous flight and wait to be transferred to the other terminal. She then escorted us back downstairs and back onto a bus. We got over to the other terminal where we all stood in line for 2 Passport Control agents to check us all over and pass us through. Mike and I barely made it through the door as our flight was being called to board...back onto a bus. We all got on the bus and were taken back out to our new plane that was parked no more than 100 feet from where the plane we came in on is parked. You just gotta love it!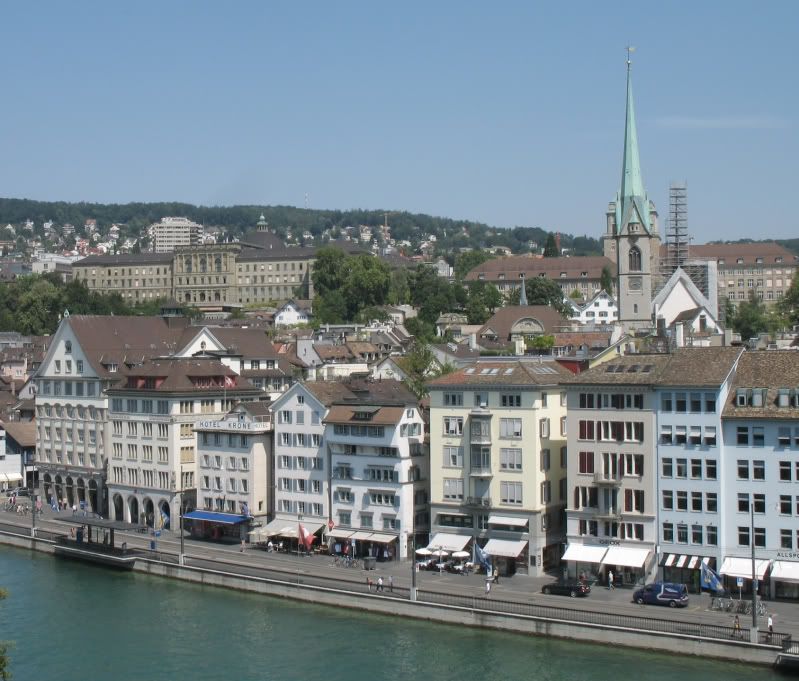 View of Zurich along the river
From here, the day was smooth sailing. We landed in Zurich around noon. Since our connecting flight back to the US leaves earlier in the morning, we had an overnight layover. What a great chance to check out Zurich! Mike had previously been to Switzerland (yeah, I know, big surprise there) but he hadn't been to Zurich. We decided to see some of the city while we were there. Prior to our trip, I was given the task of researching Zurich and booking the hotel. Mike did most of the planning for Georgia so I figured I could handle one afternoon. I had read that the public transportation system in Zurich was fast and easy to use. They were not kidding! You can get a simple 24 hour pass that entitles you to as much bus / tram / train and boat travel you want. And, it was pretty cheap. We found our train into the city and from there the Traveler's Information desk gave us an overview of the city and some directions and we were off to check into our hotel.
We decided to check out Rick Steve's version of a walking tour of downtown Zurich. We walked down Bahnhofstrasse, the main (very expensive) shopping street in Zurich. Definitely not my cup of tea. There were also a couple nice parks, one of which (Lindenhof) is on top of a hill where the women of Zurich defended the city from the Hapsburgs while the men were engaged in battle elsewhere.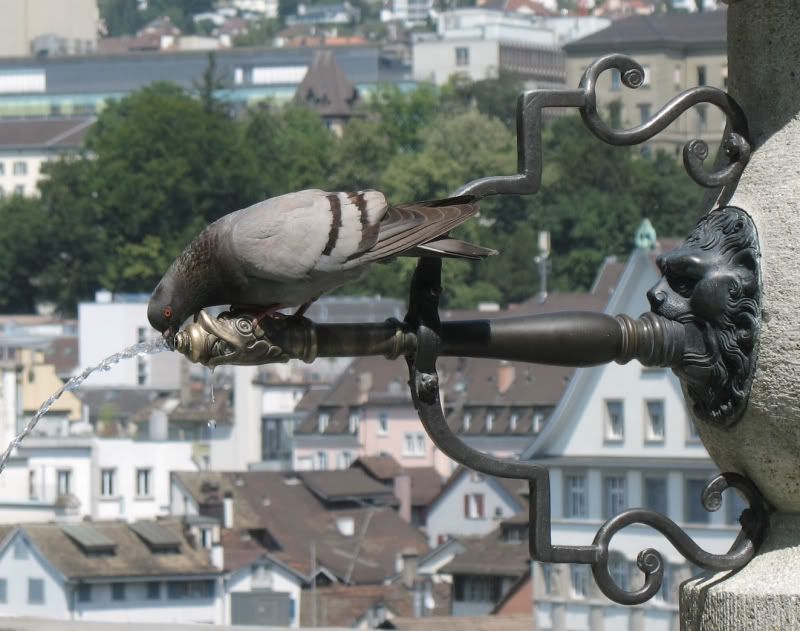 Bird drinking from a fountain in Lindenhof Park
There were also several churches along the tour. One of the churches, Fraumunster, had a big write-up in the guide book on the stained glass windows designed by Marc Chagall. The windows were very modernistic - not what either Mike or I expected. The most unexpected part of the walk was a walkway over a recently discovered Roman bath found when they were doing some repair work. There was great signage explaining the area that had been excavated and what was found.
After our walking tour, we ended up at the northern tip of Lake Zurich. Our transportation pass allowed us a discount on the 1 1/2 hour round trip lake tour which sounded like a great way to cap off the day. It was nice to sit and relax with a beer watching the hills and city pass by.

View along the Lake
We ended the day with dinner at Zeughauskeller which was an armory in the 1500s. It has medieval armor and weapons decorating the walls. The food was good and (for Zurich) relatively cheap. By the time dinner was done, we decided to head back to the hotel to finish a few things and call it an early night. It would be another early morning to catch our flight back to the US and home.
I'd like to say the rest of the trip also went smoothly, but we did have a few issues. Without going into too much ranting and raving, let's just say I probably won't be flying through Philadelphia for an international trip anytime soon.
Even with the few problems on the trip home, it had been a wonderful and amazing trip. The hilights outweighed the hiccups by leaps and bounds. I will always hold dear the beauty of the Svaneti region, the kindness of the people, and all of the wonderful sights of Georgia.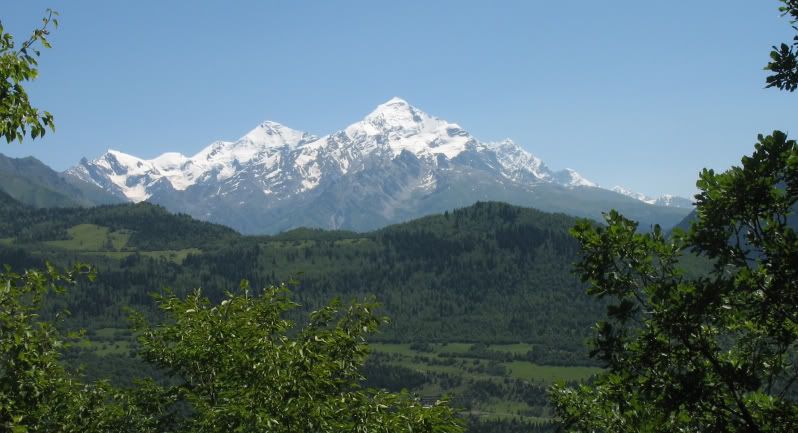 Posted by Jengt 10:56 Archived in Switzerland Comments (0)