There's always something...
7/16/12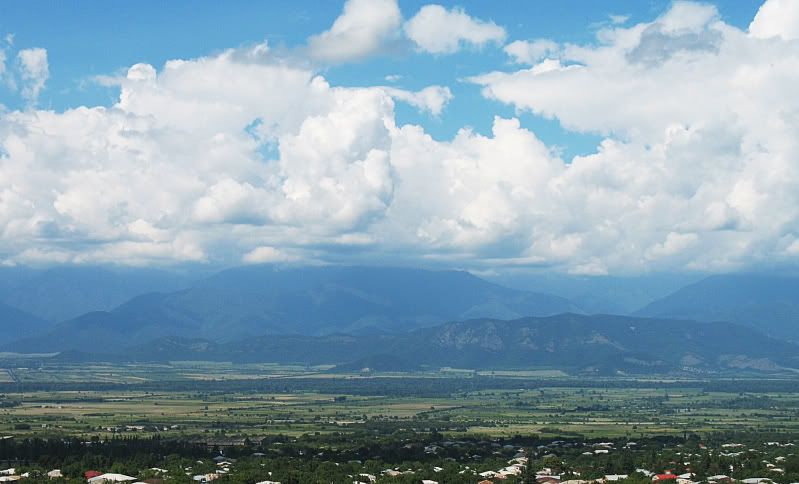 Valley around Telavi
Well, I made it to Georgia without a hitch. There was a slight delay leaving Philly, but luckily I planned for delays in my flight plans. After "only" 28 hours of travel, I made it to Tbilisi at midnight on the dot. Mike was an angel and picked me up at the airport which was an immense help for me. I'm sure I could have gotten to the hotel by myself, but I was very tired and I didn't really want to haggle with a taxi driver if I didn't have to.
We had breakfast and then I got my baptism in the art of mashrutkas. Mashrutkas are shared mini vans that take the place of buses all over the country. They leave at "scheduled" times and are CHEAP! The drawback is that they stop along the way to drop off and pick up people all along the way. We took a taxi from the hotel to the mashrutka station and got there, apparently, right after the mashrutka to Telavi left. So, we got to wait in the hot sun for an hour until the next one left. That's ok. These things happen.
Mike has been telling me about his mashrutka rides the entire time he's been here. You really have to experience it for yourself to fully understand it though. NOBODY is allowed to faster than the driver. Nobody. You know those double yellow "no passing zone" lines on the road in the States? On blind cruves? Those don't have a place here. I finally had to make myself look out the side windows or I would have been a nervous wreck by the time we made it to Telavi.
We made it safely to Telavi and found the hotel that I had booked thorough a travel agency here. Seems the agency didn't bother to check with the hotel to see if there were actually rooms available. Nice. It appears there is a movie company from India that has taken nearly every hotel room in the vicinity...for a month! Needless to say, the woman at the hotel was surprised when we walked up and asked for our room. At first she offered us their Presidential Suite at a discount - only 250 lari for just one night. Down from 300. 250 lari is approximately $175! We were quoted a price of 100 lari per night for 2 nights. We declined that "generous" offer. After much ado, she finally found us a room at a new hotel in town. This place is very new. In fact, they're still finishing the 3rd of 3 floors.

Batonistsikhe castle
After we unpacked some, we decided to check out the town. We noticed when we got to town, there was some construction going on. I didn't realize they were reconstructing nearly the entire town! They have pulled up the several streets and have completely gutted every building on 2 streets. They're giving the place a complete facelift. Facades and all. Of course, with all of the construction in town, the one in-town site we wanted to see is closed. Batonistsikhe castle is a 17th century castle in the center of town. We decided to see what we could anyways. Up we walked to the gate...it was open. In we walked. The construction does have parts closed, but we were able to get a glimpse of some of the buildings inside. None of the construction workers seemed to mind.
From there, we walked around some more getting the lay of the land. It was a hot day. Probably low 90s. Which, of course, isnt as bad as the 100+ temperatures we've had in Columbus recently, but it's still hot when you're out in the sun! After a couple hours, we decided to find a place to sit and have a cold beer. That did the trick! My body clock is still a little off and I was getting hungry around 6pm. It was still early for the locals but Mike humored me and we started looking for a place to eat. The nice lady at the Tourist Information office suggested a couple places to try. We settled on Dzveki Galavani. We each had a cucumber and tomato salad with some scrumptious bread. Think of a thick sort of flatbread. Mike had veal in black wine sauce and I had some of the best kebabs I've ever eaten. Both dinners were extremely tasty! I don't know what kind of seasoning they put on the kebabs but it was perfect! by the way, I'm under orders from my boss, Angela, to include info on the food. So, yes, you will have to endure pictures of food. Sorry.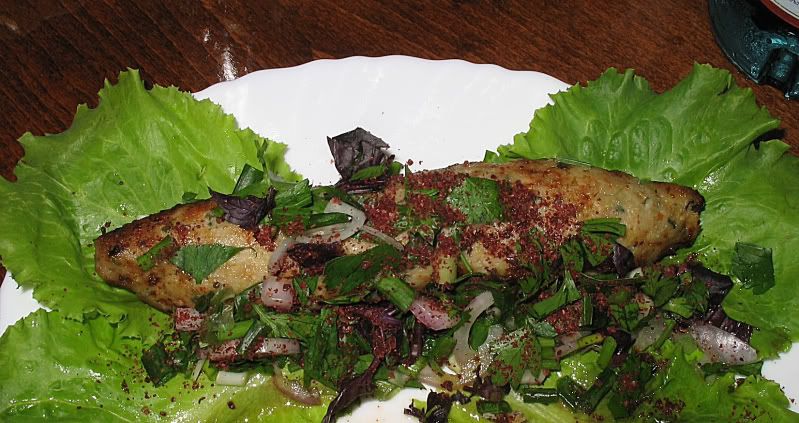 Yummy kebab!
We've booked a taxi for tomorrow to take us to some of the local sites. There are several monasteries and castles in the surrounding area that I've been looking forward to seeing. The scenery is supposed to be beautiful.
Stay tuned!
Posted by Jengt 09:37 Archived in Georgia Comments (2)