3/22/13 - 3/23/13
35 °F
What a day. Or, rather, 2 days rolled into one. I started my preparations for this trip at the very last minute. Our flight to Reykjavik, Iceland was to leave at 2pm on Friday but I was still running errands and doing laundry until late into the night on Thursday. Oops!
From Columbus it was another hop, skip and jump kind of travel day. We lucked out, for once though, no crying babies on any of our three flights. Amazing!
We touched down at 6:46am in Iceland - just as the sun was rising. What a strange landscape! This part of Iceland is quite barren and covered by volcanic rock. It's almost lunar. Breezing through passport control and customs, we grabbed our bus which dropped us off at our hotel - Hotel Klopp. Yes, Klopp. At least it's easy to pronounce. The Icelandic language is another of those where there are way too many consonants and strange pronunciations. We checked in and went to our room. Those of you who have been on cruises would be very familiar with our room. The only difference is that we have a slightly larger bathroom and a real window. It's TINY. It really does NOT look like the picture on the web. Oh well, we won't be spending much time there anyways.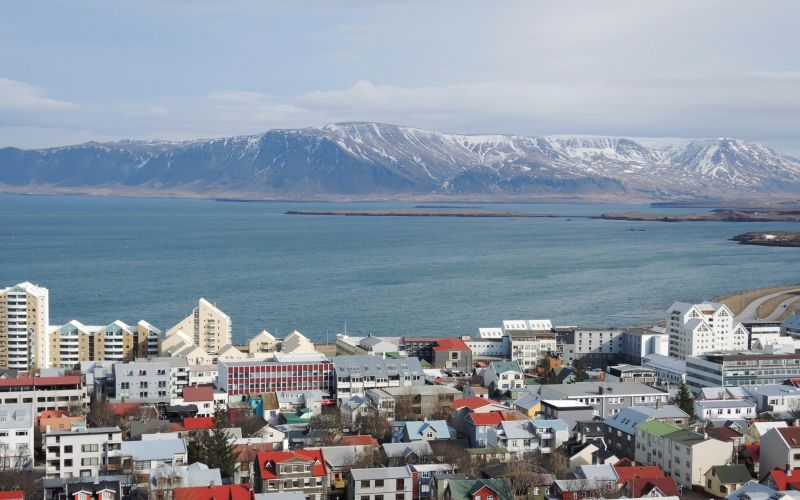 View of Reykjavik from Hallgrimskirka
We settled in and hit the road. Today was planning day. Since so much of Iceland sightseeing depends on the weather we were unable to plan much ahead of time. Our first stop was the Tourist Information Office. We picked the brain of a very nice lady and got an idea of our general plan for the week. We've decided to take a couple of pre-packaged tours and also to rent a car for a couple of days to see some of the more out of the way places. Hopefully, things go as planned. Stay tuned for the outcome on that!
Plans set, we decided to take the rest of the day getting our bearings and seeing a few sites. We wandered the streets looking for good views and getting slightly lost. Downtown Reykjavik is a quaint smallish city with little streets and colorful buildings. Such a nice change from cookie-cutter Columbus, Ohio. The first major site we visited was Hallgrimskirka which is an immense church with a clock and bell tower that affords breathtaking views of Reykjavik and the surrounding area. Inside, the church is very plain except for a beautiful pipe organ. The organist was playing while we were there. What angelic sounds! In fact, there will be an organ concert of Bach and Mozart pieces on Monday. If we hadn't already made plans for Monday, I'd try to drag Mike back. Oh well, I got a taste. And what a sweet taste it was!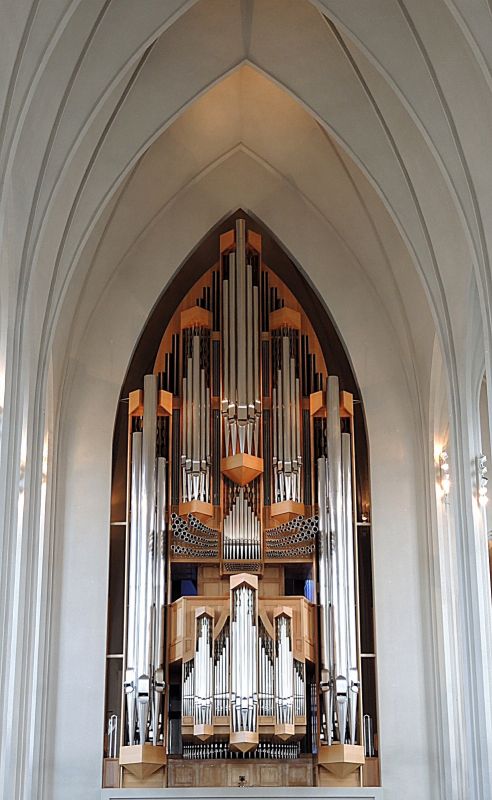 Pipe organ in Hallgrimskirka
For the afternoon we had planned on taking the ferry to Videy (pronounced Vithey) Island. It's uninhabited but is supposed to have some nice scenery. Unfortunately, the very nice lady at the Tourist Info Office wasn't quite right in where we should catch the bus to the harbor. We waited in vain at the cold bus stop for over 1/2 hour waiting for a bus that never came. Oh we'll, it had started to cloud over anyways. Maybe later.
Plan B. Since the weather wasn't as pretty as it had been earlier we decided to check out one of the museums. We finally figured out the bus system (thanks to a kind bus driver willing to practice his high school English) and made it to the Saga museum. This museum has very well done wax figures portraying various episodes in Icelandic history. The museum itself is a little cheesy and overpriced but that's ok. The building that houses the museum also has a restaurant on the top floor with panoramic views of the city. It was windy up there, but the scenery was worth it!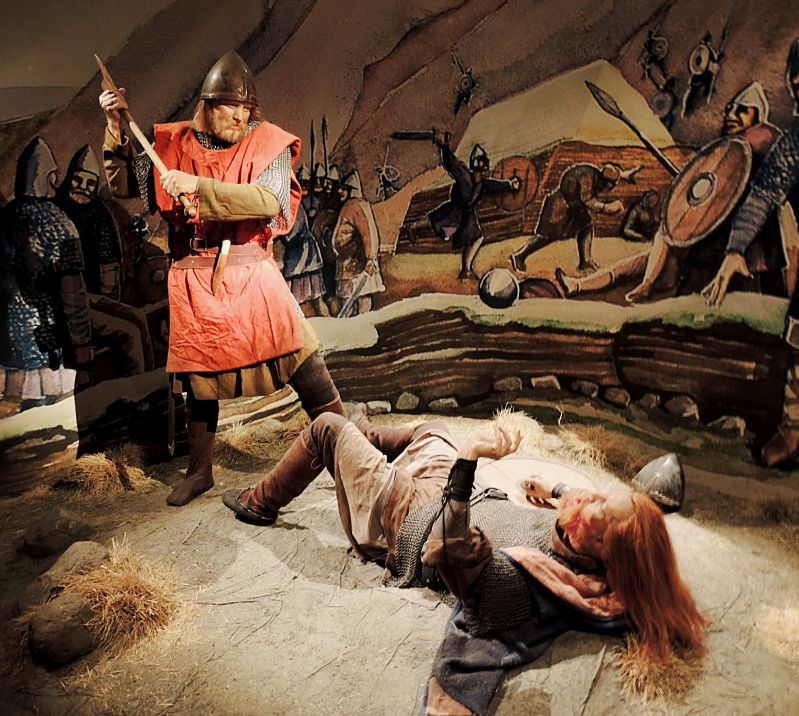 Diorama at the Saga Museum
We're ending the day at the hotel which has a happy hour. Decently priced Viking beer. A good way to end a very long day. Tomorrow, we're taking one of our tours - The Golden Circle which includes lots of cool sites. Cross your fingers for good weather!
Posted by Jengt 11:52 Archived in Iceland Tagged church vikings iceland pipe_organ Comments (0)