...makes a lasting impression
7/20/12
93 °F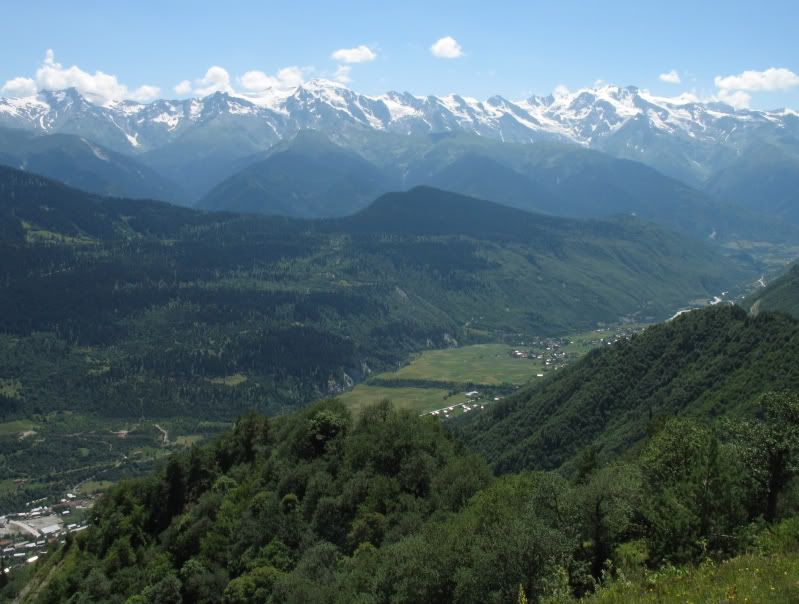 Svaneti Valley
It was to be our last day in the Svaneti region. Both Mike and I had wanted to do some hiking in the mountains while we were here. The previous day, we had asked at the information office about relatively short hikes that we could easily follow. They confirmed the info from the guidebook. There was a hike from town that went to the top of one of the surrounding ridges to a cross that had recently been erected. We stopped to pick up a couple of bottles of water each and headed out.
Up we climbed. The trail up was nearly vertical in a few spots and I worried if I'd bitten off more than I could chew. The more beautiful views around each corner kept me going forward. We'd stop now and then to rest and just take it all in. THIS was why we came here. About half way to the top, the footpath meets up with a jeep track. Just as we got to that point, Mike noticed some horses coming up the track. A couple on horses stopped to ask if we'd come up the trail. They looked incredulous and said theirs was the easy way. We agreed.
Off they rode, and on we climbed. It was a very hot, sunny day. But beautiful! We'd pass mountain pastures with views that just kept getting better. I was afraid I'd be jaded of what we saw by the time we got to the cross. I needn't have worried. As we got close, I had a sudden burst of energy and nearly ran (or as close to running uphill as I was capable) to the top. It just doesn't get any better than this!!!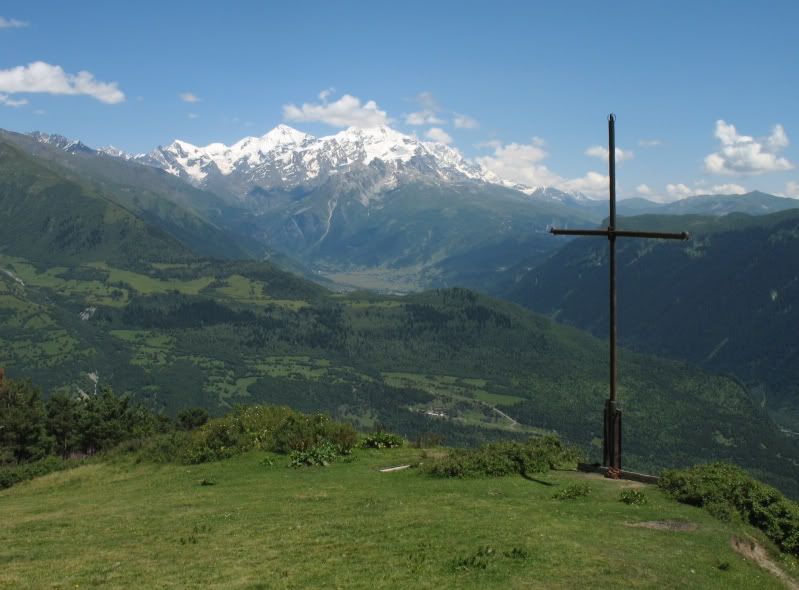 View from the top
360 views of the valley and mountains surrounding us everywhere we looked. We sat down to rest and immerse ourselves in the atmosphere. The scenery here was worth the entire trip. We lingered, taking pictures from every angle.
Sadly, it was finally time to head back. This was the point I was least looking forward to. Those near vertical climbs coming up meant near vertical drops going down. My knees started to protest after a very short time but I was not going to let them get the best of me. Down we went, picking our footing as carefully as possible. I managed to not slip until we were within 1000 feet of the trail end. I was very impressed with myself that that was the worst that happened.

Cabin with a view!
We ended the evening at the hotel, sitting on the patio enjoying cool drinks, dinner and magnificent views. As the sun started to set, Mike remembered seeing a photo of the towers lit up at night. We sat on the deck, waiting for the sun to set. We were rewarded with another hilight of the trip. This vacation just keeps getting better!
Tomorrow we would start the long trip back to Tibilisi. This time, we'd be going to Zugdigi to catch the overnight train to Tibilisi. Hopefully, I'll get a chance to dream. I dont think any dream could possibly compare to the past few days in the mountains.
Night view of Mestia
Posted by Jengt 02:54 Archived in Georgia Comments (1)